The Candy Johnson Show at Bikini Beach (Canjo Record Corporation, catalog number LRLP 1002, may or may not have ever actually been released, more on that below in the discussion labeled "availability." If it was released, was likely sometime in mid 1964, probably around late July).
Candy was a "running gag" character who appeared in the first four Beach party films. She had lines in only one of them, but was -- in the well-spoken words of one of her fans –"' impossible to forget: her character was the fringe-wearing, wild blond go-go dancer who, with the swish of her hips, could put a man in a daze and send him flying through the air."
As for this LP, it's not only the rarest of all the Beach Party related records, but likely one of the rarest 1960s pop albums in existence, period. This was the second of only two LPs ever produced by this short-lived Los Angeles based "vanity" label. Canjo was started by Candy ("Can-Jo" – get it?) and her manager Red Gilson in 1964 to take advantage of the hype surrounding her and the Exciters Palm Springs and Vegas club appearances, as well as their roles in the first three Beach Party movies.
The entire Canjo catalog apparently consists of only eight records, Priceless, classic cover with the whole gang in action the two LPs plus six singles. I've managed to track down seven pieces (even including Annette's clearly visible navel!!)!) of this virtually-impossible-to-find vinyl, this as well as the other LP (The Candy Johnson Show, RG/LP-1001 -- shown below to the left ) -- and five 45s, C- 101 Candy Johnson - Ooh Poo Pah Doo/The Hook and C-102 "Hound Dog" B/W "What You Want Me To Do" ( (both from the "Palm Springs El Mirador Lounge Show" RG/LP-1001 LP), as well as one related to the Bikini Beach album, C-105 "Because You're You B/W "Gotcha Where I Want You," (shown below, to the right) as well as C-103, (by Meredith MacCrae, Image of a Boy B/W Time Stands Still, as well as C-106 (by Jody McCrea) - Chicken Surfer/Looney Gooney Bird . In general, the Candy singles uggest that the continous coaching she got in singing from from Exciters band leader Don Hardgrave had some, albeit limited impact.
On the surface, Candy's Bikini Beach album looks similar to most of the other LPs in this discography, e.g. a record packaged as a "soundtrack album" with a melange of early and mid 60s pop material added to fill up the vinyl.
However, a closer look and listen suggest a failed attempt at that agenda. Why? Well, this LP - like Donna Loren's Beach Blanket Bingo album -- was clearly recorded and put together in a big rush, most likely in the interest of getting it into distribution while the related film was still in theatres. While that somewhat affected the quality of Loren's album, the haste behind The Candy Johnson Show at Bikini Beach is much more apparent. Or stated more bluntly, this LP is a convoluted mess.
That literally starts with the packaging. Yes, the cover is fantastic (as shown above, it's a big color picture from an early scene in the movie -- where the gang first encounters the British pop star "The Potato Bug" on the beach, which is why the girls are beaming and the guys are grimacing) that contains Candy and almost the entire starring cast. That also makes it the only Beach Party related record that has an actual shot of the artist in a scene from the film. However, neither it nor the rear contain a track list. That's the only thing missing from what is arguably the best album cover in this whole discography. In addition to that colorful front, the rear (below right) has a nice selection of B&W shots of Candy with starring cast in scenes from the film.
So, impressed with the packaging (except for that missing track list), one sits down to listen. Oh - we forgot, we will have to stare at the revolving label on the LP to determine what the upcoming numbers are. No big deal...until we realize three and a half minutes into the album that the track lists on both sides of the vinyl label are incorrect!
And we're not talking a minor problem here. A total of six numbers are mislabeled, with numbers appearing someplace other than where they are supposed to be (in two of these situations, pieces "flip sides," actually appearing on the side opposite of that on which they are listed!) Suffice to say, this makes for quite a challenging listen.
Side One (which is the most seriously mislabeled, having a total of four "errors") starts off with Bikini Beach, the title track from the movie. Interestingly, it sounds quite a bit like what is actually on the soundtrack, which would be impressive but for the fact that this film has one of the weaker title numbers in the series. It's followed by Two-Timin' Angel, a punchy mid-tempo ballad that Donna Loren subsequently performed -- in striking fashion -- in Sergeant Deadhead, another AIP film. The version here is more uptempo and features the male vocals of the Exciters. Suffice to say, Loren's slow, emotional solo ballad approach did more justice to the Styner/Hemric piece.
According to the label, the next number is supposed to be Dreams That Never Come True, a Styner-Hemric ballad performed by the Exciters. That song actually appears as the last number (track 6) of this side (which is mislabeled "Secret Weapon,"), what we hear instead is an instrumental version of Looney Gooney Bird, which per the label is supposed to be on track 5 (and was separately performed in a vocal version by Jody McCrea on the last Canjo single, C-106 described below). As heard here, it's a simple, somewhat blues-ish upbeat piano based number, but actually one of the more listenable pieces on the whole record, and a good example of the punchy, somewhat lean style of the Exciters. This is followed by a cover of Secret Weapon (mislabled "Gimme Your Love," which actually appears as track 5 on the The rear of the album cover, loaded with other side of the record), Donna Loren's dance solo number from the film. shots of Candy and starring cast from the film Candy does the vocal here, and doesn't improve (a thin, sometimes off-key voice) voice) on what even hugely talented Loren couldn't really salvage (this tacky uptempo piece is not one of the better Styner Hemric efforts).
We move on to track 5, which is labeled as Looney Gooney Bird, but since that was back on track three, what we hear instead are the Exciters doing Happy Feeling (which according to the track list is supposed to be the lead off number on side two), the Stevie Wonder piece from the end of the film. The Exciters give it the old college try, but let's just say that Motown doesn't really mix with Las Vegas lounge. The last piece on side one is the previously mentioned Dreams That Never Come True (again, mislabeled "Secret Weapon") which appears to have been intended as the Exciters attempt at a big, almost wall-of-soundish uptempo ballad. The pounding melody is somewhat interesting, but the male vocals (which are supposed to bleed emotion, but come off sounding screechy and amateurish) diminish whatever is here.
Side Two -- the more interesting of the LP, by the way -- starts off with Gotcha Where I Want You (mislabeled "Happy Feeling," which we heard on side one), the Exciters/Candy dance piece that ran during the closing titles of the film. This is probably their trademark number, designed to feature Candy's dancing ballistics backed by a lean, roaring rhythm. That's followed by This Time It's Love (correctly labeled), Annette's solo ballad from the film. The intriguing mystery here is who is singing -- is it Candy, or Meredith MacRae? MacRae -- who played the bit role of "Animal" in this film and Beach Party -- did record for Canjo (a single, discussed below), so it's possible she was a guest vocalist on this number (MacRae had some singing experience, and the voice we hear on This time It's Love sounds a little more confident than Candy), but I can't confirm that.
That's followed by How About That, an instrumental cover of one of the two silly "British Invasion" numbers Avalon's "Potato Bug" character did in the movie. The Exciters actually manage to make this slightly more interesting than what was in the film.
We then encounter what is probably the most notable piece on the record, Because You're You, the slow Avalon/Funicello love duet ballad from the film (which Annette does an absolutely fantatstic solo cover of on her Bikini Beach album). The version here is interesting to say the least; what one hears is the duet version; with a soft, sensitive female voice matched with the with the deep, sonorous sound of Exciters leader Don Hardgrave. Again, the mystery here is who is singing the female part -- Candy or Meredith MacRae? One knowledgable source has told me this is Candy, but based on closely listening to confirmed Johnson pieces and this, I'm not convinced. Another interesting aspect of this number is how similar the instrumental backing is to that heard on the Annette LP version.
That is followed by the last mislabel (we hear a loud, blaring Exciters cover of "Gimme Your Love," the other Avalon "Potato Bug" piece form the movie, although the track list tells us we're supposed to be hearing "Gotcha Where I Want You.") The album closes out with Little Heartbreaker, an original uptempo ballad that appears to feature two female vocailists (Candy and Meredith?). Frankly, this sounds like a Styner/Hemric throwaway, something they penned that never made it into a film.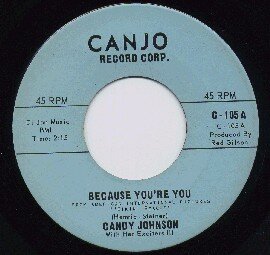 Phew. So much for that stroll through rushed mid-60s studio mediocrity and mis-managed production .
The LP is in mono and as far as I can determine, all Canjo records were released in that format only.
Availability: as stated up front, this thing is beyond rare, so prayer is about the only thing I can recommend to anyone hoping to find it. After years of searching, I finally located a copy (a relatively clean one at that) on eBay in early 2004 and snapped it up for $269, which was a comparative deal (the only other two other copies I'm aware of that have ever come up for sale -- both were privately auctioned by a "rare records" specialist dealer -- each went for over $550!
Frankly, based on that scarcity, I get the sense very few of these were ever printed/distributed. Which in turn leads to a theory: was The Candy Johnson Show at Bikini Beach never actually marketed, or pulled from distribution shortly after being introduced? The sole single from the album, C-105
That possibility is raised by the track listing issue. Canjo was a small, entreprenurial start up, which had to outsource record printing. It's possible that after contracting with a plant to print the album, Canjo discovered the track listing errors only after production started. That could have been followed by a dispute between Canjo and the album manufacturer (about which party was contractually accountable for the mistake), with a lack of resolution subsequently killing the production (Canjo couldn't force the manufacturer to pay for the expense of a corrected run, and couldn't afford to go elsewhere for one?) If that was the scenario, some limited inventory of the incorrect track list albums may still have gotten sold, given away, etc, which would explain the literal handful of copies floating around out there now.
Related singles: (all on Canjo, all presumed be in mono and all released in early to mid 1964). All suggest Canjo co-owner/producer Red Gilson took a "shotgun" approach with the label, releasing numbers by a range of artists. These singles, in catalog order:
C- 101 Candy Johnson - Ooh Poo Pah Doo/The Hook (both from the "Palm Springs El Mirador Lounge Show" RG/LP-1001 LP).
C-102 Candy Johnson "Hound Dog" B/W "What You Want Me To Do" (both also from the "Palm Spings El Mirador Lounge Show" RG/LP-1001 LP).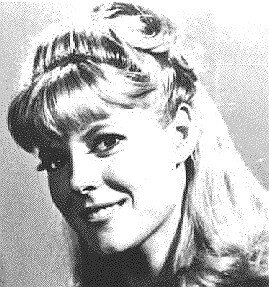 C- 103 Meredith MacRae - Image Of A Boy/Time Stands Still An interesting release; here we have MacRae -- who played "Animal," a bit character (one of the "beach girls") in the first and third movie of the series, photo to the left -- recording two solos for Canjo . The fomer is a cover of a 1960 single by the Safaris, the latter an original number. Both are heavily reverbed, wall-of-soundish numbers with instrumentals that -- despite Meredith's robust mezzo soprano -- bury the vocal and make it hard to appreciate. She subsequently went on to record again a few years later, when she and her female co-stars on the CBS Petticoat Junction TV show released an LP. After another decade and a half of more bits roles (mostly in TV), MacCrea became a popular, respected local morning TV show host in L.A., before dying of brain cancer at age 56 on July 14, 2000 (Meredith's daughter Allison has put together a nice legacy site on her mom, a link to it can be found on the link page).
C- 104 The Barracudas - Boss Barracuda/Hot Rod USA A liitle mystery here; e.g., two numbers from an unknown combo; this variation of the Barracudas is not the contemporaneous east coast band (well known to garage rock fans), and may have simply been a bunch of studio musicians (or possibly even the Exciters) that producer Gilson slapped the label "Barracudas" on for need of a name to put on this single. I Meredith MacRae, 1965 I strongly suspect the Boss Barracuda number is actually a cover of a tune by the the Surfaris, one they perfomed as background music during a pool scene in "The ly Lively Set,"a car-oriented 1964 Beach Party clone (a copy of that version is on the Decca The Lively Set soundtrack LP).
C-105 Candy Johnson (or Meredith MacRae?)/Don Hardgrave - "Because You're You B/W "Gotcha Where I Want You" (from the "Bikini Beach" LRLP 1002 LP discussed above; photo of single above right). This was the only single Canjo produced from the Bikini Beach LP, and compared to the album is quite easy to find - next to C-102, it shows up on eBay more than any other Canjo record.
C- 106 Jody McCrea - Chicken Surfer/Looney Gooney Bird . McCrea played the ongoing secondary gag character "Goo Goo" (a.k.a. "Big Lunk" in Pajama Party) in six of the seven Beach Party films (he -- like most of the other stock characters from the series -- was absent in the last). Here he "sings," and not surprisingly, these are both noisy, campy "novelty" numbers, with McCrea performing them in his full, trademarked "dumb goofball surfer dude" character.
As for availablity, like the Bikini Beach LP, all these singles are comparatively scarce, with (per my experience trying to hunt them down) C-103 and C-104 being the rarest (the former was almost as tough as this LP to track down, the latter I've never found for sale anywhere). For whatever strange reason, C-102 is the easiest to find; copies pop up on Ebay at least four to five times a year. Prices run the gamut accordingly from $30-40 for C-102 to $70 or more for the more obscure titles.