Donna Loren Sings Songs From Beach Blanket Bingo (Capitol, released October 1965). While Buena Vista used the first four Beach Party movies as an opportunity to produce Annette releases, they for whatever reason passed (or were possibly outbid, no one seems to know the story here) on Beach Blanket Bingo. As a result, the fifth film in the series -- and considered by most critics to be the best – was snapped up by Capitol, who had in their arsenal multi-talented Donna, who was presumably chomping at the bit for a shot at an LP. So one sits down with great anticipation to listen to Donna Loren Sings Songs From Beach Blanket Bingo.
However, that anticipation readily turns into some frustration.
That's because what appeared intriguing ends up being a conflicting listen: on the one hand, Donna was a much more capable singer than Annette, one with a unique style that mixed a strong, confident alto with emotion. On the other hand, management at Capitol clearly didn't appreciate her huge talent or know what to do with this material. Unlike Annette's carefully produced Buena Vista records (no matter how "silly" the content, Disneyland Records Music Director Tutti Camrata always did it well), Donna's LP was made in a hurry -- the entire album was recorded in a single 14 hour long session --- by people with little competence in guitar-based pop. And the results reflect that.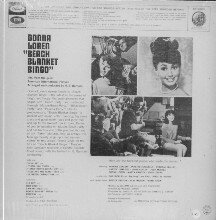 In essence, this rushed-out LP is to some degree a waste of a gifted artist. This isn't Donna's fault. It' s the arrangements and production, which in far too many cases are unnecessarily busy, with overdone orchestration and chorus that are completely inappropriate to the material. Adding insult to that injury, almost everything is always played a little too fast.
Frankly, the reasons for that are unclear. The producer of the album -- H. B. Barnum -- was one of the fresher house talents at Capitol, a capable arranger with a background in jazz and doo-wop who went on in future years to contribute to the work of many major artists. I suspect the "rush" on this project (and perhaps Barnums's lack of background in the management functions of a producer) limited his ability to plan and refine the recordings. Whatever, the listener is left trying to appreciate Loren against an overblown, overscored backdrop. In some numbers, Donna manages to work around this, but far too often one hears a breathy, growling Loren who sounds like she's trying much too hard to compete with it all.
Donna wins this armwrestle to some extent with the wonderful Styner-Hemric ballads. While her piece in the film - "It Only Hurts When I Cry" -- is inexplicably changed from the beautiful mid-speed ballad of movie into an over-arranged uptempo number, her beautiful alto manages to cut through the blaring background. We have a similar listening experience with "New Love" – which thanks to Jackie Ward sounded great in the movie -- which Donna manages to save from turning into a bluntly overproduced yawn.
The uptempo numbers are another matter. Despite Donna doing her best, "Fly Boy" becomes hyper-speed pop, to the point where it is literally fatiguing to listen to. The title number -- which was bouncy and fun in the film -- is also disappointing, again due to the arrangement; it's supposed to be tightly syncopated, but instead comes across like a car that's repeatedly stalling. Frankly, the only uptempo cut on the entire album that comes close to working is Donna's cover of the Hondells' The Cycle Set. Perhaps this was recorded early in the session, before everyone got tired and edgy; notably, it's also the leadoff number on the record (song one, side one) suggesting Capitol knew what it had done and literally put the best foot forward. Sadly, the great original Hondells version of this song never appeared on any vinyl.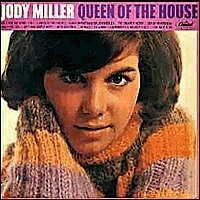 What makes all this even more frustrating is the fact Capitol was simultaneously producing some excellent female pop. As example, just a few months before Donna's album, Capitol released Jody Miller's Queen of the House (left), her second LP and in my humble opinion one of the best pop albums made by any American female singer during the 1960s (due not only to Miller's huge, obvious talent -- she won a Grammy for the title track -- but also some outstanding production work by the legendary Billy Strange). If only Donna – who really deserved it -- had received the same sort of careful treatment!
Donna Loren Sings songs from Beach Blanket Bingo was originally released as Capitol 2323 (mono) and ST 2323 (stereo). In October 1998, European Marginal, a German label, produced a limited edition (only 500 copies were pressed) compilation of Donna Loren material on CD (distributed under their "Missing Records" label, MISS-010), which included the entire stereo version of this LP, as well as most of her other significant single recordings. A somewhat abbreviated version of this CD (it still contains the entire Beach Blanket Bingo LP but has fewer singles) was issued early in 2001 by the Rhino Records Collectables label, and as of Spring 2003 was still in print.
Availability: as far as the original vinyl goes, not quite as easy to find as Annette's Beach Party, but more available than most other Beach Party records. Copies come up on the web auction sites relatively frequently (as usual, most in mono, stereo is rare). The Missing Records Loren CD is out of print and hard to find, but worth looking for (it occasionally appears on eBay), given it contains a somewhat larger and more broadly representative compilation than the Collectables CD. The latter is still available on places like Amazon, which makes this the only album in this entire discography that is currently being retailed. Note that despite the content issues mentioned above, the original LP version of this album has become a big, hot collectible, primarily because of the wonderful close-up of a gorgeous eighteen year old Loren on the cover.
Related singles:
Capitol 5409, "So, Do The Zonk"/"New Love" mono, not believed to have been released with picture sleeve, November 1965. Interesting combination, contains one number ("So, Do The Zonk") which is similar in design to the "Clyde" piece that was on Annette's Bikini Beach related singles (e.g., a song designed to promote a presumed new dance fad, a gimmick which had been in vogue in the early 60s but which was clearly outdated by late 1965). The Zonk song was not on Donna's LP. It is on both compilation CDs mentioned above, and the slow, thumping, heavily reverbed piece is about as entertainingly weird as Loren ever got. Side B is Donna's LP cover of the love ballad Linda Evans "performed" in the movie (Evans actually "mouthed" overdubbed vocals that were sung an uncredited "ringer" named Jackie Ward), which per the review above is one of the pieces Donna managed to salvage (despite the fact she was battling another overworked arrangement, one featuring a rather bumpy rhythm section that seriously disrupts the melodic flow of the number). Presumably this single is quite rare; I've only seen one of these come up for sale once.