Annette at Bikini Beach (Buena Vista, released September 1964). The third Annette Beach Party-related release and a mixed bag, as a listen immediately suggests that by now her Disney producers and writers were running out of ideas on how to fill up an LP.
The gatefold cover shows Annette in a bathing suit again, this time a one piece as she lies by a pool (on the front an album about "bikinis" and "beaches," go figure). Side one contains "the usual," recordings of Annette singing music from the AIP film Bikini Beach, the clear standout number being another classic Styner-Hemric love ballad, "Because You're You," which in my humble opinion is one of the ten best recordings she ever made. Her performance of it can only be described as hauntingly beautiful, as her solo, unembellished (no doubletracking, echo or any other processing) mezzo soprano literally resonates against a simple acoustic guitar background. As any accomplished musician will tell you, the acid test of any vocalist is a slow ballad against a simple background -- every and any singing flaw shows up in that situation -- so it took guts for Annette to cut the number this way, and she succeeds. The fact this song has never been included in any of the Annette compilations produced by Disney over the last two decades is a crime (and suggests just how oblivious that company has become to the real treasure sitting in its archives).
The "how can we fill this LP?" issue becomes clear when one listens to side two, which features her doing relatively generic covers of early 1960s dance numbers, including "Let's Twist Again," "Blame it on the Bossa Nova" as well as two new pieces, "The Clyde" and "Jamaica Ska. " The latter is the most unusual of all these dance songs, and one she would for whatever reason choose to re-do twenty three years later in Back to the Beach. The album also includes a song that is easily among the top two or three she ever recorded: a Sherman-authored duet with the Beach Boys ("The Monkey's Uncle" from the 1964 Disney film of the same name).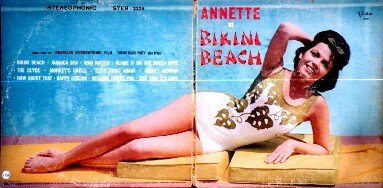 Annette at Bikini Beach was originally released in mono (BV-3324) and stereo (STER-3324 ). It has never be re-released in any format. Also, per discussion on the prior two Annette LPs, some posters on various Funicello-related online bulletin boards have made erroneous references to a "Buena Vista issued CD re-release of her Bikini Beach LP that was made in Japan." No such CD exists (the mistaken presumption behind the reference is probably due to the ongoing confusion among some Annette enthusiasts about the origin of the Pony Canyon Japanese re-releases of Beach Party and Muscle Beach Party).
Availability: harder than average Annette album to find, particularly the stereo version. Was a reasonably good seller (for whatever reason, Disney heavily promoted this release), but gatefold designs don't hold up well, so a lot of these have gotten trashed over the years. As a result, this one is in small supply and doesn't come cheap. Copies appear on the web auction sites once in a while
Related singles:
Buena Vista F-436, "Bikini Beach Party"/"The Clyde." mono, released with picture sleeve, September 1964. Two of the less interesting numbers from the LP (the forgettable title number and a song for a dance fad Buena Vista hoped to start). Comparatively rare, but because the content is not particularly sought after, can be bought for $40-70 when it appears.
Buena Vista F-437, "The Wah Watusi"/"The Clyde" mono, no picture sleeve, October 1964. Two pieces from side two of the LP, the strange Watusi piece and The Clyde again (somebody senior at Buena Vista must have been insisting this was going to catch on if it was promoted enough). Like most of the other 45s from Annette's Beach Party LPs, this is rare, but proven lack of a picture sleeve has held the price down. Can be had for $30-50 when available