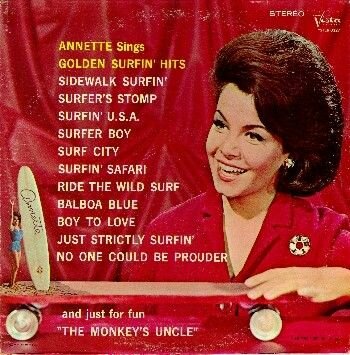 While Pajama Party was Annette's last "formal" Beach Party related album, it really wasn't her last record tied to those films. That came in July of 1965, when Buena Vista released "Annette Sings Golden Surfin' Hits" (originally released in mono BV-3327 and stereo STER-3327).
The album does not contain any material from any of the Beach Party movies. Instead, it's full of covers -- of quality ranging from "ouch" to excellent -- of early to mid 60's top 40 surfing songs. The best piece on the record is easily the first number on side one, a straightforward, no-nonsense but seriously toe-tapping version of the Beach Boy's earliest hit, 1962's "Surfin" (arguably not only one of her best rock numbers, but perhaps one of the best covers of any Beach Boy song ever recorded). The others worth listening to include Jan and Dean's "Ride the Wild Surf " and arguably her version of the Beach Boy's "Surfer Girl" (which on this record conveniently becomes "Surfer Boy "). Unfortunately, her version of Jan and Dean's biggest hit – 1963's Surf City" -- is a truly frustrating listen. It could have been a great cover, but for some inexplicable reason the arrangement doesn't include the critical falsetto vocal during the refrain, which is the one thing that makes that song the true classic it is.

It also has some instrumentals, yet another a copy of "The Monkey's Uncle" and even two non-surf originals – "Boy to Love" and "No One Could Be Prouder" – which were separately released as a single (Buena Vista F-442, mono, no picture sleeve, May 1965, right), and are interesting, "wall-of-sound" pieces, unlike any other material Annette had previously or subsequently did. This is probably because both were composed by writers outside the usual Buena Vista/Disney "family" ("No One Could Be Prouder" by Joe Saraceno & Harvey Rubens, and "Boy To Love" by Michael Z. Gordon). Some theorize Annette's producers had her record these in an attempt to get some renewed radio airplay by copying the then-popular "Phil Spector girl group sound" format. Annette's high water mark on the top 40 was in 1959 and 1960, and while the Beach Party releases has resulted in a some singles, none had charted in any significant way.
Unfortunately, neither "Boy to Love" nor "No One Could Be Prouder" charted, nor did a follow up single (her last for Buena Vista) that came out in March of 1966. That was "No Way To Go But Up" B/W "Crystal Ball" (Buena Vista F-450). "No Way To Go But Up" is conventional, late 60's style moral ballad, while "Crystal Ball" is from Annette's second to last Buena Vista LP, Something Borrowed, Something Blue LP (shown below, BV-3328, STER-3328, which has never been re-released in any format).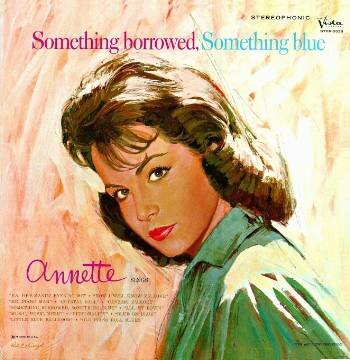 Whatever you make of the grab bag that Golden Surfin' Hits is, it was clearly designed to cash in on her then still active involvement in the Beach Party series, which is why I include it in this discography. In fact, given its release date one is left wondering whether it was intentionally aimed at stealing some thunder from Donna Loren's simultaneously timed Beach Blanket Bingo LP (discussed elsewhere in this discography).
Availability: this album wasn't a big seller and is extremely popular with Annette collectors (perhaps because it's the last Disney LP she ever recorded), so it's hard to find and tends to be expensive (the very rare stereo versions in particular; these hardly ever come up for sale anywhere). As mentioned in another section of this discography, a full copy of Golden Surfin' Hits is also on the same obscure, now out of print Annette compilation CD that contained a copy of Annette Muscle Beach Party. However, as also mentioned earlier, I've never seen one of these for sale anywhere (most likely because they were produced in small numbers for very limited overseas distribution).
Related singles: one, Buena Vista F-442, discussed above.