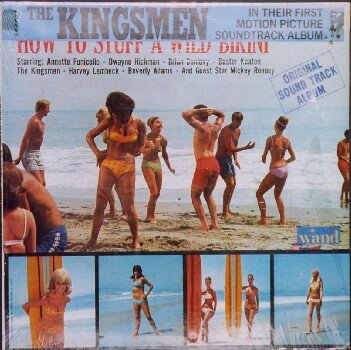 How to Stuff A Wild Bikini Soundtrack album (Wand, May 1966). Arguably up there with Annette's Beach Party as one of the best of all the Beach Party albums, in large part due to the quality and range of material. Although the packaging (e.g. cover) is rather generic (photo from the beginning of the film, where surfers are dancing on the beach), this is the only true original cast soundtrack album ever released in conjunction with any of the Beach Party movies.
As a real soundtrack album, both sides include the original film versions by almost every actor/artist who sang in the film, including Annette, Mickey Rooney, the Kingsmen and even Harvey Lembeck (the only exception being "If It's Gonna Happen," noted below) . Standouts include the two Annette numbers (one, "The Perfect Boy," is probably as close as it gets to being the textbook example of an 1960s teen movie music piece) as well as the ballad "If it's Gonna Happen," which unlike the film version is a solo here, gorgeously performed by someone listed in the liner notes as "Lou Ann Simms." That is a typo; the artist being referred to is "Lu Ann Simms," someone I now know a good deal about (to a large degree thanks to Al Peppe, a site visitor who personally knew Simms during the earlier years of her career).
Lu Ann was actually born Lu Ann Ciminelli. She grew up in Rochester, NY, and in 1952 at age nineteen started appearing as one of the regular performing guests (a.k.a. "Little Godfreys") on the popular Arthur Godfrey TV show on CBS. She earned that role; while Godfrey promoted his program as a talent show that let the audience choose "unknowns," most of these "discoveries" were in fact struggling professionals looking for a break, so the quality of the talent was always quite high. She continued in that coveted role for three years, attaining such a level of celebrity that dolls of her became best sellers. However, in 1955 Godfrey -- who was by then well known for being a fickle, tyrannical host -- let her go. She then started pursuing a solo singing career, under the careful tutelage of manager Loring Buzell (who was the nephew of well known New York producer Eddie Buzell).
Just like Annette and Candy Johnson, Lu Ann ended up marrying her manager, at a huge wedding (with Merv Griffin as an usher and over 1,500 of her fans in attendance) in Manhattan in July of 1955. Loring subsequently did well for his spouse, getting her numerous recording opportunities, including a contract with Jubilee that resulted in not just singles but also a solo LP (At Separate Tables, SDJLP-1092) and even an appearance on the Ed Sullivan Show .
Unfortunately, Simms became a young widow when Loring died of a heart attack at age 32, only four years after their wedding (and while pregnant with their second child). Lu Ann moved to California and remarried, supposedly to a man "connected to the liquor industry" (a marriage which is believed to have ended in divorce). Shortly thereafter, she had her first Beach Party related engagement, when she recorded a single cover of "Promise Me Anything/Treat Him Nicely" from Beach Party for the Vee-Jay label (details on this single are on the "Annette's Beach Party" album page).
I have heard from various credible sources that this single was actually residue of "test dub" work that Lu Ann and Mike Clifford (a relatively obscure early 60s singer who appeared in Village of the Giants, which is covered in the "clones" section of this site) did for AIP during the production of Beach Party. Apparently, Simms and Clifford were contracted to work as recording studio "stand-ins" for Annette and Frankie; they taped the initial drafts of songs for the movie, which the writers used to tweak and polish the arrangements, prior to the final production versions being taped by Avalon and Funicello. If this is true, then it demonstrates just how competent a vocalist Simms was (ergo, her ' "rough dubs" were considered good enough to be released as singles!)
I suspect it was that experience that got Lu Ann the subsequent opportunity to be booked as a "hired gun" to overdub Irene Tsu's singing part of this number in the sixth movie (which in the film is performed as a four part, duo split screen "quadrette"). My gut also suggests that as part of the studio work involved in that overdub, Lu Ann (for whatever reason) recorded the full piece as a solo. It's not clear why that performance (as opposed to the movie version) subsequently ended up on this LP and a Wand single; I have a strong sense it had to do with the fact some producer was smart enough to to recognize how much better the solo version is.
After that brief "ringer" engagement, Lu Ann went into professional hibernation for almost a decade. She then popped up again, at age 45 in -- of all places -- a gay oriented disco album released in early 1975 (right). She performs Shirley Wood/Around the World, a convoluted, five and a half minute long, double-entendre-filled thumping medley on the debut LP of Disco Tex and the Sex-O-Lettes, a compilation of novelty dance tunes put together by producer Bob Crewe. The Tex/Sex-O-Lettes -- which was actually a revolving ensemble of various flamboyant characters from the contemporary New York City club scene -- appear in only some of the numbers on the LP; much of it is made up of guest artists, including Simms.
How Crewe came to engage Lu Ann -- by then a comparatively forgotten artifact of a prior, gentler age -- for this campy production is a mystery to say the least (perhaps he had nostalgic childhood memories of her from the Godfrey era?) Given Freddy Cannon also shows up on this quirky record, one senses Crewe may have simply enjoyed the incongruity of mixing obscure vintage artists, suggestive lyrics and mechanical instrumentals.
Whatever, this appearance was the last of Lu Ann's singing career. In her subsequent life, A long way from Godfrey: she became a private but passionate Hollywood-area supporter of the victims of Lu Anns' 1975 swan song substance abuse, one motivated by her own struggles with alcohol. While still active in that social welfare role, the former television and recording celebrity died of pancreatic cancer on September 21, 2003.
As for the original record of discussion on this page, it's also unusual in that the company that released it -- Wand, based in New York City -- was primarily an R&B
label not known for producing white artists, much less soundtrack albums. The fact that the Kingsmen -- one of the few white acts ever signed by Wand -- performed in Wild Bikini is obviously what led to that label releasing this record. While produced in stereo, the overwhelming majority of copies out there are in mono (both had the same catalog number, Wand 671; the stereo versions are only identifiable by the fact Wand slapped a blue label on the top of the front cover with the words "THE KINGSMEN IN THEIR FIRST MOTION PICTURE SOUNDTRACK ALBUM" with the word "stereo" in tiny vertical print on each side, left). The album has never been re-released in any format, which is a shame given its quality.
Availability:
not produced in large numbers and appears to be an up-and-coming item in the collectible market.

As a result, this album isn't easy to find, particularly the extremely rare stereo version. Copies come up on the web auction sites infrequently and increasingly go for serious bucks (a somewhat worn stereo copy went for over $200 on eBay back in 2001, which made me appreciate the fact I'd paid only $26 for a sealed stereo copy -- yep, that gloss on the bottom of the picture above is original 1966 cellophane -- almost ten years earlier).
Related singles: two, both on Wand:
Wand 189, "Annie Fannie"/"Give Her Lovin'", The Kingsmen, mono, no known picture sleeve, June 1965. The A side contains a song unrelated to the film, with the B side featuring the band's relatively forgettable solo number from the movie. Rare, but not in particularly high demand, so when it appears can be had for $25-40.
Wand 196, "If It's Gonna Happen"/"After The Party", Lu Ann Simms, no known picture sleeve, June 1965. The choice solo Simms version of the group ballad from the film, as well a rare piece not on any other record - a Simms solo cover of the ensemble piece at the end of the movie. I've never heard the latter; in fact, have never seen one of these for sale, so I can't even guess what they would cost. Note: as mentioned above and discussed on the Annette's Beach Party album page, Simms had previousy recorded another Beach Party related single (a cover of "Promise Me Anything" and "Treat Him Nicely") for a different label (Vee-Jay) in 1963.