The universe of sites with any meaningful, substantive content related to the musical element of the Beach Party movies (or their clone offspring) is small, but growing. The select ones below offer some of that, and are ones I'd recommend anyway based upon quality of presentation/content, entertainment value and/or just general interest:
Album Discographies by Callahan, Edwards and Eyries
With a dry sounding site name that could almost be mistaken for a law firm, this place is often overlooked by fans of the pop music of the 1960s. That's unfortunate, because these three authors have assembled the most detailed, accurate and impressive index anywhere of the LPs of the era and the labels that produced them. The "story" pages that describe the history of the latter are works of art; incredibly well researched and loaded with tidbits (the Kingsmen's Louie Louie -- which was recorded in a small, cheap independent studio in Seattle and picked up by Wand for practically nothing -- was the best selling record the label ever had). Site also has an excellent FAQ section on record collecting and how to track down copies of oldies on CD. I strongly recommend a read of the latter to anyone who leaves this site wanting to find the material described in the discography.
Bad Movie Planet
Don't let the name and somewhat over-the-top layout mislead you; this isn't just another one of those sophmoric mudslinging sites. Rather, it's a well run forum where comparatively thoughtful participants write up detailed, illustrated synopses and "is it bad enough to be good?" assessments of films you suspect must be so absolutely, horrendously awful as to be entertaining. This is all done in wonderful tongue in cheek form (the review of "Billy the Kid vs. Dracula" raises the intriguing question of why Director William Beaudine didn't follow up with "Buffalo Bill Meets The Mummy.") Inevitably, some of the AIP Beach Party offerings (and even a clone) have found their way into this site, and the commentary that resulted is both entertaining and insightful. I love the slogan of this place, too: we'll watch anything once.
Brian's Drive In Theater
If my site goes for depth on a narrow cinematic tangent, Brian Walker wrote the book (and still sets the example) on how to go for meaningful breadth across a larger universe of subject matter. His site is the biggest, most detailed general resource on "B" movies anywhere, with an enormous collection of deeply researched biographies and nice synopses of a huge range of films. There's a whole section dedicated to "1960's Beach Party Movies," which covers most of the seven AIP films as well as many related offerings of the same genre. All of this comes supported by a massive, unrivaled collection of promotional photos and theatrical displays (posters, lobby cards, etc.) Also, Brian's knowledge and archives go back much further than the 1960s; increasingly, this is the place for refined appreciation of the entire history of low budget Hollywood. Highly recommended!
Donna Loren's Swingin' 60's
Originally part of Adasa, Donna Loren's promotional/retail site for her couture firm, but in November 2004 became a separate, stand-alone site celebrating her legacy. Here one finds a wonderful archive, with lots pictures and even Quicktime video of some of Donna's vintage appearances and commercials for Dr. Pepper and Simplicity Patterns. Overall, there's a lot more openness/approachability present here than in the typical "celebrity" site, which likely reflects the persona of the subject. So come to enjoy Donna's creativity, legacy and character, and while you're at it, "surf" over to Adasa and get a deal on some beautiful fashions and trendy accessories.
The Four Word Film Review
The web is crammed with film review sites, but none as immediately gratifying as this. The site is basically a straightforward, completely open forum of reviews, albeit with one unique twist: they cannot be more than four words long. That insistence on brevity results in some amazingly creative submissions, many on films I discuss here. One of my favorite relevant examples (a review of 1965's Village of the Giants:)
"Unsupervised teens become supersized."
The Internet Movie Database
While well known among cinema buffs and film professionals, I've found "laypeople" are often unaware of this resource, which is why I list it here. The largest collection of film facts and bulletin board reviews on earth, period. Invaluable to anyone curious about specific films or broader cinema genres, with basic information often not found elsewhere (release dates, filming locations, budgets, soundtrack listings, crew, etc.) Excellent cross-referenced database allows users to easily assess anything from career paths to studio evolution. But that's the sideshow; the primary utility here may lie in the thousands of layperson "user reviews" of films, a good number written by people far more insightful than many well-known published film critics I can think of.
The Chris Noel Website
Only a handful of the actors and actresses who starred in Beach Party Movies (or their related offspring, ergo the "clones") have established any meaningful personal presence on the web. Chris Noel -- the beautiful "Queen" of the Beach Party clones -- is not only a member of that small, select club, but has put together one of the more entertaining and substantive outposts of any star of that era. Her small but impressively fulfilling site has a wonderful archive of pictures and video of her 1960s appearances (including clips of some her films discussed here). But the real meat offered is the honest and forthright discussion of her experiences touring Vietnam as a Hollywood goodwill ambassador (a role in which thousands of veterans still hold her dearly in their hearts) and her ongoing humanitarian involvement in Veteran's causes. One simply can't visit this site without being struck by the sincerity and sheer selflessness of the woman behind it.
The Meredith MacRae Website
A gracious and very elegant site, celebrating the legacy of "Animal," a memorable but underappreciated alumni of the Beach Party series. A visit uncovers the story of a polished, well educated daughter of a famous showbiz family, who charmed audiences in young ingénue roles in both film and television prior to a subsequent career as a Emmy-winning producer, investigative reporter and humanitarian. Meredith is gone now, and while I've seen plenty of other "celebrity memorial" sites, this is the only one where the simple words "we miss her" really struck home.
The Quinn O'Hara Website
This is a new and smaller site, but worth a visit to appreciate the character and warmth of one of the more unique personalities of the Beach Party genre. Quinn -- a well read, well traveled lady -- does a nice job here at balancing appreciation of her past with a sense of her contemporary life.
Swingin' Chicks of the Sixties
Nicely composed and presented, this is the place to go if one wants detailed biographical information on just about any young female celebrity of the era. I appreciate the authors' willingness to tell the full stories of the women (warts and all, a case in point being their succinct but detailed write up on the sad, unflattering fate of Anissa Jones, the child actress who played "Buffy" on the Family Affair TV show), as well as admitting when their information is limited or missing (their section on Candy Johnson as prime example). Pictures are scarce here, but that's O.K., one comes primarily for the writing.
The Video Beat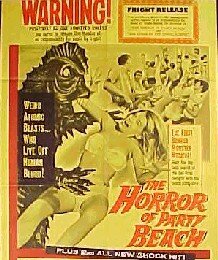 Flat out the best place to find supposedly "lost," "out of print" or "unavailable" video of pop and rock movies of the 50's and 60s. In fact, the overwhelming majority of what you see here just isn't available anywhere else. Examples? "The Ghost In The Invisible Bikini, "Fireball 500" and "Sergeant Deadhead," plus many beyond-obscure "Z-studio" Beach Party clones, including the most notorious of them all, Del Tenney's 1963 no-budget masterpiece "The Horror of Party Beach."
Site actually offers not just films, but also scores of musical short subject matter such as TV shows, documentaries and specials. As well as music, the firm also specializes in 1950s "juvenile delinquent" and late 1960s "biker/hippie/druggie" cinema; you'll be amazed at the number of titles that were released in those genre. In addition to VHS, the firm has begun offering videos in the DVD format. Both are offered at flat prices for two hours of material; the company automatically puts related filler into the "leftover" space on the tape or DVD. As example, I ordered a 1968 Lulu TV special, what arrived was not only that but an extra 50 minutes of incredible rock n' roll performances from various obscure 1960s U.K. films. Fascinating stuff, which included three wonderful Cliff Richard numbers from Summer Holiday, the British equivalent of a Beach Party movie!