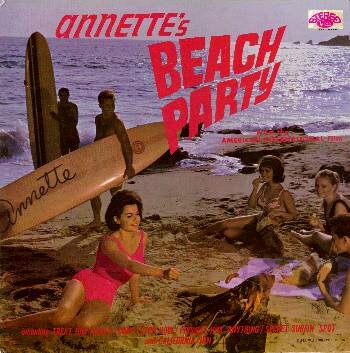 Annette's Beach Party (Buena Vista, released July 1963). The first Beach Party record is actually one of the best that came from the series, given the quality and variety of the material.
The cover shows Annette roasting hot dogs with the gang on the beach at dusk; back shows a classic picture of her with the famous autographed surfboard (virtually identical to the picture on the related single shown below). Side one contains two actual soundtrack songs and three "re-recordings" of music from the AIP film Beach Party, as well as a new "surf/beach" piece written just for the LP. Standouts include the title cut as well as two excellent Styner/Hemric ballads, "Treat Him Nicely" and "Promise Me Anything," both beautifully performed by Annette.
Side two starts off well with a cover of "California Sun," which not only is up there in Annette's "career top ten" but also (for whatever reason) had a minor comeback as a popular spin in L.A. discos in the early 1980s. It also includes a few entertaining Disneyesque surf numbers and two Sherman-authored Hawaiian-themed songs from a prior Annette album ("Hawaiianette," June 1960, BV-3303; my personal favorite of these being "Date Night in Hawaii," a wonderful snapshot of a kinder, gentler, and now screamingly extinct adolescent mindset).

Annette's Beach Party was originally released in mono (BV-3316) and stereo (STER-3316). Rhino Records also printed a vinyl stereo re-release (RNDF-204) in 1984, and a Japanese company (Pony Canyon) printed a stereo CD re-release in 1992 (PCCD-00069, shown to the left). Some posters on various Funicello-related online bulletin boards have erroneously refrerred to this as a "Buena Vista issued CD;" it is not, Disney simply licensed the material to Pony Canyon for re-release, and since it was originally copyrighted under the Buena Vista label, that name appears in the footnotes on the CD.
There is also an obscure, now out of print CD compilation (of undetermined origin, I suspect also Japanese) of Annette material that contained a complete copy of this LP, as well as a complete copy of Annette Sings Golden Surfin' Hits, a later "not-Beach-Party-material-but-closely-related-to-it" album (which is discussed elsewhere in this discography). The only reference I've seen to that CD is a single picture on a particular Annette fan web site; I've never seen one for listed for sale anywhere.
Availability: as one of the biggest Annette Beach Party sellers, this is actually among the easiest to find, original copies come up on the web auction sites quite often. As is the case with all Annette albums, stereo versions are much less common than mono ones, and in the case of "Beach Party" are only distinguishable on the outside by a bright pink "stereo" sticker Buena Vista slapped on the upper right hand corner of the cover. Why the sticker? Since this was the first Annette LP ever released in stereo, I suspect the sticker was a shortcut, i.e. this record was rushed out, timed to appear with the release of the movie, and in that interest Buena Vista didn't want to engage the delay involved in a separate print run of "stereo" covers. The Rhino re-release is difficult (but not impossible) to find. As for the Pony Canyon CD re-release, it was printed in very small numbers and only distributed in Japan, so it is extremely difficult to find (I've seen it at best only once or twice on eBay over the last four years). As for that other mysterious compilation CD, again, I've never seen one for sale.
One additional note about the stereo version of the album: interestingly, the two songs it contains from 1960's "Hawaianette" are also in stereo, even though Hawaianette was only released in mono. This little detail may be of major interest to serious Annette collectors, for it suggests the engineers Buena Vista retained were mixing Annette recordings into the stereo format as early as 1960 (years earlier than previously assumed) and that Disney archives may still contain unreleased stereo master tapes of some of her earlier, pre Beach Party era albums (ergo, Annette, Annette Sings Anka, Italianette, Dance Annette, and The Story of My Teens).
Related singles: four -- the most of any of the films -- and an interesting group at that. Note that only one is directly related to the LP above; the rest are listed here because they all tie into the same film.

Buena Vista F-427, Annette, "Treat Him Nicely"/"Promise Me Anything," mono, released with picture sleeve (left), September 1963. Contains the two excellent ballads from the movie/above LP. Given the classic sleeve (left) and comparative rarity, this is known to go for $90+ in good condition
Chancellor 1139, Frankie Avalon, "Beach Party"/"Don't Stop Now," mono, no picture sleeve, released December 1963. Two songs from the first film, the A side being the Avalon solo version of the title number that ran during the closing credits in Beach Party (which isn't as good as Annette's LP cover, but is better than their duet version in the film). The other side is the dance number Frankie did in the first film, which per the review in the score area in this site really isn't anything special. This single doesn't show up very often in the market but also isn't in high demand, so when it appears can be purchased for $20 or so.
Capitol, 496(? - unknown last digit), Dick Dale, "Secret Surfin' Spot"/"Surfin' And Swingin'," mono, no known picture sleeve, released late 1963 on "orange and yellow swirl" format label. Dick's two numbers from Beach Party. During his early 60's reign as "king of the surf guitar," Dale released plenty of LPs but few singles, and this is the only one known to contain material from any of the Beach Party movies. I've never seen it for sale anywhere, which suggests it didn't have a very large print run. That lack of availabilty and the fame of the artist would generally make this valuable, but I have no reference for just how much so.
Vee-Jay 63-3404, Lu Ann Simms, "Treat Him Nicely"/"Promise Me Anything," mono, not believed to have been released with a picture sleeve, issued sometime in August or September of 1963. Probably the most mysterious single ever produced in conjunction with a Beach Party movie. It was released by Vee-Jay, which is famous among record collectors for both being the first American label to issue Beatles recordings, as well as having had a colorfully litigious relationship with several other major artists (including the Four Seasons) that eventually put it out of business in late 1965. This single was apparently a stand alone, opportunistic replication of the similar Annette single, released in an attempt to cash in on it and the simultaneous popularity of the movie. Exactly why Simms -- who had some success as a pop soloist in the mid and late 50s, but who had faded in celebrity by 1963 -- came to record these two particular songs is unclear (although I have a theory, which is discussed on the How To Stuff A Wild Bikini Original Soundtrack page. You will also see there that two years after Beach Party, Simms actually did perform a brief vocal -- in overdub format -- in How To Stuff A Wild Bikini; the sixth film in the series). The licensing of these numbers to Vee-Jay is also a mystery; the firm had no known marketing relationships with AIP, Buena Vista or Jubilee, Simms' prior label. I've never seen one of these for sale anywhere. Simms material in general is quite rare, hardly ever showing up in the vintage record market, so I can't even guess at the value of this 45.