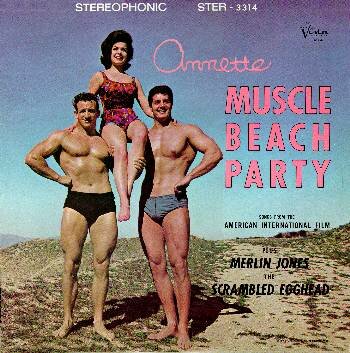 Annette Muscle Beach Party (Buena Vista, released April 1964). Uneven but still interesting Beach Party record.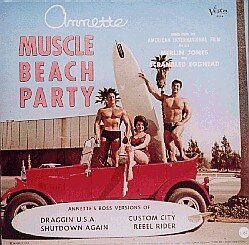 The cover shows Annette up on the shoulders of two muscle men (the one on the right being Peter Lupus, a.k.a. Rock Stevens, who played "Flex Martian," the star bodybuilder in the film), on the back she's with the same two hunks in a red hot rod. Side one primarily contains recordings of Annette singing pieces from Muscle Beach Party. As the film discussion on this site points out, this wasn't one of the better movies in terms of music, so there isn't a lot – in fact nothing -- to get excited about here. Without even getting into the horrid title number, Annette's cover of Dick Dale's "Surfer's Holiday" – one of the few decent songs in the movie -- is disappointing, as is her version of the Dale/Loren duet "Muscle Bustle."
Frankly, side two is the more notable, even though it contains no songs from the movie. Instead, it features Annette doing hot rod numbers (the top-40 radio fad du jour in early to mid 1964), some of which are among the best "rock" cuts she ever did. One of these pieces, "Rebel Rider" – a Styner/Hemric composition of the same school as "Leader Of The Pack" -- is arguably an improvement on the former; the ending sequence of this piece, where Annette ghostly repeats the refrain during fadeout can only be described as pop perfection. Side two also includes two great uptempo numbers, "Draggin' U.S.A." -- with a pounding, mean rhythm guitar section and great refrain, and "Waikiki," a jubilant, wall-of-soundish "hey-gang-let's-go-to-Hawaii" number (during the instrumental bridge here, the guitarists get to go nuts, and it's great). Both prove Annette could definitely rock when she felt like it. There are also Sherman-authored cuts on each side from the 1963 Disney film Merlin Jones the Scrambled Egghead (the one on side two -- "The Scrambled Egghead" -- being the more interesting, due to it containing some quite entertaining back and forth between Annette and Tommy Kirk).
This record was originally released in mono (BV-3314) and stereo (STER-3314). Rhino also printed a vinyl stereo re-release (RNDF-205) in 1984, and Pony Canyon (a Japanese label) issued a stereo CD re-release in 1992 (PCCD-00068, shown to the right). Again, as with the Pony Canyon Beach Party CD, some posters on various Funicello-related online bulletin boards have erroneously refrerred to this Muscle Beach re-release as a "Buena Vista issued CD," and again, it is not (Disney simply licensed the material to Pony Canyon for re-release, and since it was originally copyrighted under the Buena Vista label, that name appears in the footnotes on the CD).
There is also a second Annette now out of print compilation CD (produced by the same unknown, obscure source of the CD mentioned in the Annette's Beach Party LP discussion) that contained a complete copy of this album, as well as complete copy of Annette, the first LP Annette ever released (back in 1960, during the late stages of the "Mickey Mouse Club" period of her career).
Availability: so-so. Wasn't originally a huge seller, and for whatever reason (probably the cover, which is classic tacky mid 60s) is one of the more popular Annette albums among collectors, which has raised the market price of a stereo version in decent condition to well over $100 (for a record that had a retail list price of $4.98 back in 1964). Original copies come up on the web auction sites once in a while. I get the sense Rhino printed very few re-releases, since I've only seen one of these for sale (a year ago on eBay). The Pony Canyon CD was only distributed in Japan and in small numbers, so it's quite tough to find. As for that compilation CD, again, I've also never seen one of these for sale anywhere.
Related singles: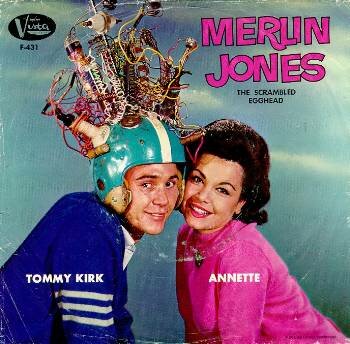 Buena Vista F-431, "Scrambled Egghead"/"Merlin Jones." mono, released with picture sleeve, December 1963. As noted above, the songs have nothing to do with Muscle Beach Party but were included on the subsequent related Annette LP as filler. One number is a duet performed with Tommy Kirk. This is comparatively rare, and given the cutsey sleeve (left) is known to go for $80+ in good condition.
Buena Vista F-432, "Custom City"/"Rebel Rider" mono, catalogued as having been released with picture sleeve, although there are no known examples (the official Disneyland Records archives are infamous for containing errors, so it's suspected there never actually was a picture sleeve for this single), June 1964. Per the above discussion, contains two of the choicer cuts from the Annette Muscle Beach Party LP. Comparatively rare, known to go for $80+ in good condition.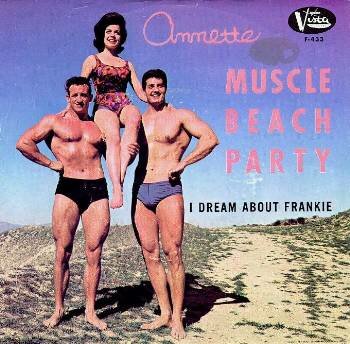 Buena Vista F-433, "Muscle Beach Party"/"I Dream About Frankie" mono, released with picture sleeve July 1964. A side contains the (ugh) title song from the Muscle Beach Party LP, side B a so-so number from the album that was composed specifically for the LP (wasn't in the movie). Despite this, because it is comparatively rare (and replicates the classicly tacky LP cover) is known to go for $70-$90 in good condition with the sleeve.