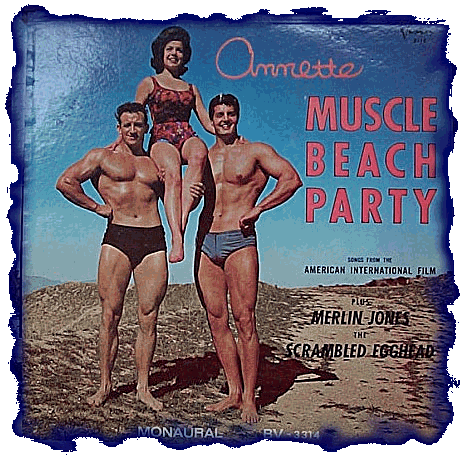 Beach Party Related Recordings
The popularity of the AIP Beach Party movies led a number of record companies to produce and release movie related singles and LPs. This was facilitated by the fact that several of those in the initial starring cast had existing recording contracts with major labels like Buena Vista and MGM.
Before you enter this discography it must unfortunately be noted that most of these recordings are not readily available for those who wish to hear this music (and the record companies want to know why Napster was so popular!!!!)
While a song or two from various albums appears on some anthology "best of" CDs out there, only four of these records are confirmed to have been fully re-released on CD (unfortunately, most in small numbers on no-name labels with very limited distribution, only one is currently in print). So in most cases the easiest (or only) way to hear this material is to (a) have a working turntable handy and (b) track down either an original or re-released vinyl copy. In my experience, the best place to find those is through on-line auction sites such as eBay. At any given time, these sites tend to have some Beach Party related albums available. I really don't recommend going through used record stores/dealers. I've dealt with some of the largest in the U.S. and Europe, and have found most to rarely have any Beach Party material available (and anything they do tends to be ridiculously priced irrespective of condition).
What you hear in the Beach Party movies vs. what you hear on the "soundtrack" albums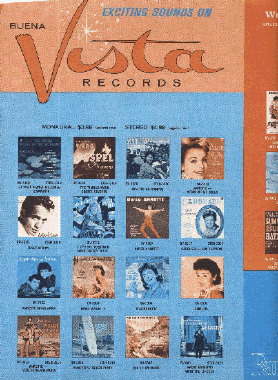 Visitors should also note that most of the these records aren't true soundtrack albums. In fact, with the exception of the Wand How to Stuff A Wild Bikini album, two selections from the Annette's Beach Party LP and two from her Pajama Party album, none of this vinyl contains the actual recordings used in the films. Rather, most are made up of "re-recorded" versions of some or all of material from the given film by a particular artist, usually with covers of related pop material or even instrumentals thrown in for the sake of filling up the LP.
As a result, when listening it becomes interesting to compare the "re-dos" on these albums with the actual music in the films, for in some cases they are major improvements, in other cases much less so.
As example, the version of the title song "Beach Party" Annette sings on her "Annette's Beach Party" LP is faster, punchier and overall a clearly superior listen than the slower, softened, comparatively mushy version she and Frankie Avalon do in the movie. On her Annette at Bikini Beach LP, she performs a solo version of "Because You're You" that takes a nice but simple duet from the film and turns it into one of the most hauntingly beautiful ballads she ever recorded.
On the other hand, what you hear in the film is sometimes better – occasionally, much better --than what's on the record. Both Avalon's and Funicello's "Muscle Beach Party" LPs contain tame, diluted versions of the Dick Dale authored "Surfer's Holiday" (a song whose refrain melody borrows heavily from Freddie Cannon's Palisades Park) that are much less interesting than the version they and Dick performed in the title sequence of the movie. The version of "It Only Hurts When I Cry" that Donna Loren performs in Beach Blanket Bingo is also much better than the one she re-recorded for her Capitol album.
And now, without further adieu, here are the records:
Plus one "what could have been" unborn record:
Note: while the focus of this discography is on LPs, every single related to the series is also covered.