(Always cast as "Candy" and "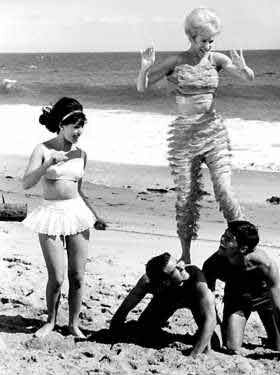 The Exciters Band")

While many character actors are known or remembered for a playing a particular "recurring role," few hold as narrow but memorable a distinction as Candy Johnson. Even though she only appears in the first four of the films, next to Harvey Lembeck's "Eric Von Zipper" character, Candy holds the largest "running gag" legacy of any secondary cast member in this series. While she never sang a note in these movies and her band never got extended screen time, she and The Exciters were still an important piece of the entire musical element of the theme.

For the uninitiated, Candy -- a perky looking blond who was almost always dressed in brightly colored, fringed go-go attire (example to the right, in a scene with Donna Loren from Bikini Beach) -- had a single dedicated function in the script: providing somewhat sexual humorous relief. Her basic "schtick" in that role was to engage in dancing, but not just any dancing: we're talking wild, high speed gyrations, ones so ballistic that a "bump" from her swiveling hips was enough to toss a man flying across the beach or room - literally. But there's more to the story than just her nutty performances in the films; the history and evolution of the Candy/Exciters relationship itself is interesting vintage Hollywood. Fortunately, I've had contact with Margaret Hardgrave, the widow of the Don, The Exciters leader, who has been kind enough to share a large amount of history on the band and Candy with me. As a result, from what I know this site is the first place anywhere where the real story of these artists can be told.

Candy grew up in San Gabriel, just outside of Los Angeles, and was trained in dancing as a child. In addition to tap, she studied Afro-Cuban dancing and dramatics before graduating from San Gabriel High School in 1960.


The Exciters came together in the early 1960s, first starting out as "The Igniters," a lounge band in Las Vegas. They were headed by lead singer Don Hardgrave (who came from a prior solo recording career as "Big Don Hargrave;" -- he dropped the "d" professionally -- and that name that wasn't just dreamed up, Hardgrave was a enormous fellow) and included Bobby Fry on bass, Jack Merrill on guitar, Jim Rector on drums and Larry Ogden on sax. In 1961 they changed their name to "the Exciters."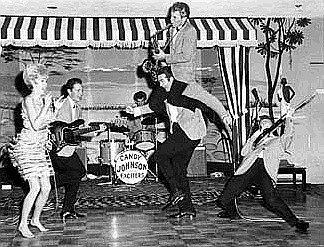 Candy's path crossed that of the Exciters a year later. That was when she caught the attention of Red Gilson, the Exciters manager, who noticed the twenty one year old long distance telephone operator standing in line at the Hollywood Paladium. Since she was purchasing tickets for a twist show featuring Chubby Checker, Gilson (who approached Candy simply based on her appearance) q
ueried
the girl on whether
she
could dance, and when she responded affirmitavely sold her on considering a job as a dancer for "a group he managed." Candy discussed the opportunity with her parents, won their permission and history was subsequently born when the "front gal" was added to the Exciters act.
While Candy could certainly dance, singing wasn't one of her particular competencies, so Hardgrave ended up spending many hours teaching her how to simply carry a tune. His and her efforts paid off, however, for the lounge act featuring "Miss Perpetual Motion" quickly caught and began two years of regular lounge appearances at the Thunderbird in Las Vegas and at the El Mirador in Palm Springs (publicity shot from that era, above). It was during this period -- when AIP management began laying the plans for Beach Party.-- that the crazy club group with the wild dancer caught the eye of the producers, who subsequently worked Candy into the script in a "gag dancing" role.
By the way, visitors who have read Annette Funicello's 1994 biography may recall that -- in her brief discussion of the music of the Beach Party films -- she refers to one of the performing groups in the movies as "The Exciters, of "Tell Me" fame." That is an erroneous attribution (one her ghostwriter Patricia Romanowski may have mistakenly made); she and/or Annette was confusing the Hardgrave band of the films with a similarly-named R&B quartet from Queens, New York that scored big with a few "Brill Building style" hits (among them "Tell Me" on United Arrists) in the early 1960s.
Anyway, about the same time our west coast combo was getting scripted into the AIP films, Gilson changed their "marquee lineup." The group became Candy Johnson and her Exciters, which reflected both her being positioned as the primary attraction and the fact Gilson saw his future in promoting the girl, not the band (which may have also been related to the fact that Johnson and Gilson had become romantically involved, despite the fact Gilson was already married with six children). That in turn may have led to some tension between the players (Gilson apparently promised Candy that he would "make her a star.")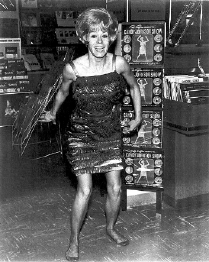 Following that agenda, as the AIP appearances continued Gilson tried to broaden Candy's appeal by moving her into recording. Sometime in early 1964, he started up a proprietary record label (Canjo records, short for "Candy Johnson," publicity shot from label, right) featuring Candy and "her" Exciters as the primary attraction (I suspect this vanity studio strategy followed failed attempts to get Candy and the band a contract with a major label). Canjo was short lived, however, releasing only two LPs and six singles, all in 1964 (more details on the Canjo recordings are in the discography section).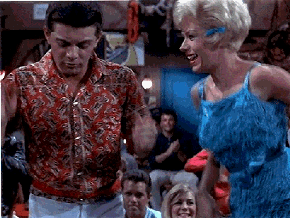 Gilson's obsession with broadening Candy's appeal may or may not have had something to do with the fact her and the bands' role in the AIP films lasted for only the first year of production (late 1963 to late 1964). Candy has a brief solo appearance early in Beach Party (left), and she and the band returned with more screen time in the next two films produced in 1964 (Muscle Beach Party and Bikini Beach).
After Bikini Beach, the relationship between Candy and the band collapsed. The Exciters -- who had by now tired of being a backing group -- formally split with Candy, going on to tour as a solo act again. Candy held on with AIP for one more brief solo appearance in the fourth film, Pajama Party. During the filming, she even managed to take advantage of her "AIP celebrity" by squeezing in a summer appearance in the "amusement zone" of the New York World's Fair as a stand-alone attraction.
But all that fame was fleeting. By mid 1965, Johnson's brief career as a film and lounge star was over. She never appeared in any subsequent films and her stage career quickly faded (the only post Beach Party mention of her in any press are a few tiny tabloid sidebars about sporadic New York and European club appearances circa '66-'67). She did eventually marry Gilson, but the relationship didn't last (a scenario identical to that of Annette Funicello, whose marriage to manager Jack Gildari in 1965 ended years later in divorce. On that tangent, Deborah Walley and John Ashley's 1963 marriage also fell apart. Hmmm...the curse of the Beach Party romances?)
As for the present day, while the primary web rumor circulating places Candy in Branson, Missouri, working as a choreographer for the show mills (a scenario which conveniently offers "storybook" closure), that is inaccurate: Cabdy's actual last confirmed whereabouts are in Palm Springs, married to a golf pro.
Professionally, the Exciters fared only a little better than Johnson. After the split with Candy, they continued to tour for about a year and a half, but never recorded again and eventually broke up sometime in late 1965, leaving a vinyl legacy of only the Canjo LPs and singles. Don Hardgrave subsequently joined the Boy Scouts of America and worked for them for over 32 years, before dying on August 30, 1999, one month shy of his 60th birthday. Saxist Ogden has also passed away; the present whereabouts of the other band members are unknown.