Even the most cursory reading of published and online assessments of the Beach Party movies reveals an interesting consistency: irrespective of what the reviewer thinks of the films (and many are less than flattering; far too many people presume inexpensive films produced four decades ago should have somehow anticipated post-millennium tastes and values), they enjoy the antics of Eric Von Zipper (right), Harvey Lembeck's bumbling motorcycle gang leader character.
Harvey Lembeck born April 15, 1923 in Brooklyn, and after high school served in the Navy during World War II . After being discharged, he entered New York University and earned a degree in radio arts in 1947. At the recommendation of one of his professors, he pursued a stage career upon graduation.
His thespian efforts started in theatre and subsequently spanned over thirty years, with his first film appearance in 1951 (You're In The Navy Now). Prior to working with AIP, Lembeck also had a significant television career, including starring roles on the Phil Silvers Show. When he was hired in 1963 to appear as Von Zipper in Beach Party, he was one of the oldest cast members at age 40.
Von Zipper was the leader of the Ratz and Mice, the standing arch-enemies of the surfing kids (or, as described by Von Zipper, "dem no good soifing bums.") Suffice to say, Zipper and his "bikers" never presented any real threat to the beach gang, given the Ratz and Mice in essence represented the Hell's Angels as executed by the Three Stooges. The core of the latter was Lembeck's classic characterization of Von Zipper, which was basically a blatant -- and riotously funny -- parody of "Johnny Strabler," Marlon Brando's cycle gang leader character from the 1953 film The Wild One. In almost every scene in which the gang appears, this fantastic drawling imitation of a brain-dead gearhead immediately set the stage:
"I come here to tell you dat dese beach bums is bums."
"I like you. And when Eric Von Zipper likes someone, dey stay liked."
Zipper and his "stooges" appeared in six of the seven Beach Party movies (all but the second, Muscle Beach Party. The reasons for their absence in that outing are unclear; I suspect either a contract dispute of some sort with AIP or a schedule conflict; Lembeck was involved as cast member with another production -- MGM's The Unsinkable Molly Brown -- about the same time that Muscle Beach Party was being filmed).
The gang is introduced early on in Beach Party and have a key role in that film, as not only the opponents of the Surfers but of the adult "love interest" Professor Robert O. Sutwell. Late in the film, Sutwell lays out the beginning of a key running gag with Von Zpper (one that follows that character all the way through the sixth movie, How To Stuff A Wild Bikini). Said key running gag is the infamous..Himalayan Suspension Technique.
The Himalayan what? Well, let me explain.
During a dispute at the Big Daddys nightclub, Sutwell -- who is being threatened by Von Zipper -- applies his right index finger to a "key spot" on Zipper's left temple. Apparently, this mysterious form of far-Eastern self-defense -- which involves applying pressure to some particular nerve in the victim -- results in putting them into immediate frozen temporary unconsciousness. So, in Beach Party -- as well as confrontation scenes in four other films -- Von Zipper is "frozen," which inevitably forces his gang to retreat, while carrying Lembeck off like a mannequin (as a Rat named J.D. pompously pronounces "Eric Von.Zipper will return.")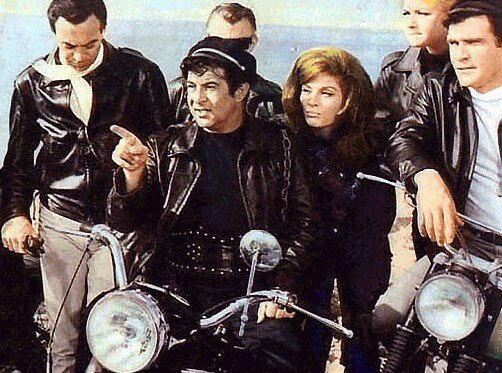 In addition to Lembeck, four other players made up the core Ratz and Mice cast: Bob Harvey, Andy Romano, Jerry Brutsche, and Alberta Nelson all appeared with Lembeck in the six films containing the motorcycle gang characters.
Outside that core, a handful of other performers popped in and out of the gang roles; Alan Fife (who played "Beard," a beared, non-speaking gang member) wasn't in Beach Party, but played a "Rat" in the five other films the gang was cast in. John Macchia ("Joey") also appeared in five movies as a Rat (he was absent in Bikini Beach, in which he was replaced by Frank Alesia, in his sole "biker" appearance). And in addition to Alberta Nelson, two other actresses portrayed "Mice" (female gang members) during the run: Linda Rodgers appeared as "Linda" in Beach Party, Bikini Beach and Pajama Party, she was replaced with another character named "Boots" played by Myrna Ross in Beach Blanket Bingo, o, Ho The "Ratz and Mice" gang in late 1964: L-R: John Macchia ("Joey"), How To Stuff A Wild Bikini and The Ghost In HarHarvey Lembeck ("Eric Von Zipper"), Jerry Brutsche ("Jerome", obscured The Invisible Bikini. embeck( ebehind Lembeck), Linda Rodgers ("Linda"), Alberta Nelson ("Alberta") An Andy and Andy Romano ("J.D.")
Even though these were bit roles, the actors made the most of them, given the rich "biker" genre they were stereotyping. Other than Lembeck, the gang member with the biggest ongoing role was Andy Romano, who played Von Zipper's lieutenant, a biker named "J.D." (which -- as Von Zipper continually reminded audiences -- was short for "juvenile...delinquent.") Romano did a nice job at developing J.D into the calm, soft-spoken counterpoint to hysteric Von Zipper; he and Lembeck eventually had their characters working in seamless "straight man/foil" mode.

Next to Romano, the other player with the most visible ongoing gang member part was Alberta Nelson (left), who played a statuesque blond "biker chick" who was initially named "Alberta" but evolved into "Puss" by the fifth film. Nelson's script lines generally positioned her as the loyal but bumbling "yes girl," which she -- like Lembeck -- embellished with a thick, almost screechy Brooklyn accent. In some films, she also acts as the gang's "moral compass," always being the first to express doubts about Lembeck's latest crackpot scheme (in How to Stuff A Wild Bikini, Puss whines "heaer he goeees agaaaain...." when Von Zipper announces his futile infatuation with one of the beach bunnies). Notably, Nelson also holds the unique distinction of being the only person who appeared in all seven Beach Party movies. In six of them, she plays a "Mice" biker; in Muscle Beach Party (again, the only film where the Zipper and his gang characters don't appear), she's cast in the non-speaking role of "Lisa," one of the female "attendants" working for Jack Fanny's Muscle Building Team.
Also regularly visible is Jerry Brutsche, who played "Jerome," a young, enthusiastic Rat who inevitably gets in the way of Von Zipper at the worst possible moments. Alberta Nelson (TV screen shot from shot from 1961 appearance Initially, Lembeck and his gang had no musical role in the movies. However, their growing popularity on the Dick Van Dyke Show) eventually led the writers to move them up in importance (the roles of Lembeck and the Ratz grew grew continually as the series evolved), and by the fifth film -- Beach Blanket Bingo -- someone decided they warranted a stand alone ensemble musical number. Von Zipper and his crew perform I Am My Ideal in that movie, and followed it up with two numbers in the sequel (How To Stuff A Wild Bikini). All these took full advantage of Lembeck and the slapstick, cartoonish aspects of his "blind followers" gang.
Von Zipper and the bikers were not only part of the series at the beginning, they had a critical role in closing it out: as the score section of this site points out, the last Beach Party movie -- "The Ghost In The Invisible Bikini" -- features hardly any of the regular cast members. In fact, the only thing that really makes it a part of the series is the presence of Lembeck and the Ratz and Mice, who provide the sole continuity to the prior releases (while Bobbi Shaw -- who was also in three of the earlier films -- appears in Ghost, she doesn't play a prior "standing" character).
Lembeck continued working for AIP after the Beach Party series ended, with roles in Sergeant Deadhead, Fireball 500 and Dr. Goldfoot and the Bikini Machine. About that time, he opened his own comedy workshop, which not only became successful but also grew to the point where it is today viewed as one of the best comedic schools in the county.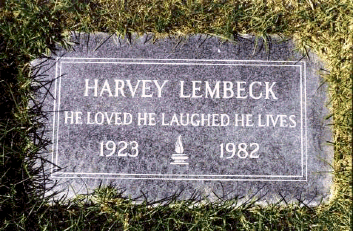 Two years after his last film appearance (in The Gong Show Movie), Lembeck died of heart failure at age 58 on January 5, 1982 (following three of his Ratz/Mice ensemble; after suffering a stroke, John Macchia passed away in Los Angeles on July 30, 1967, Myrna Ross was killed in a plane crash in the mountains of Colorado on December 26, 1975 and Bob Harvey died of unknown causes on January 10, 1978).
As sad as those losses are, Lembeck's legacy -- and those of all the "gang members" -- lives on in these films. And the simple, lyrical epitaph on Harvey's grave marker (right) certainly rings true, as proven by the audience belly laughs I hear whenever a soundtrack blasts out "and now... you get de ratz revenge."