(always cast as "Frankie," Dee Dee's on again, off-again boyfriend)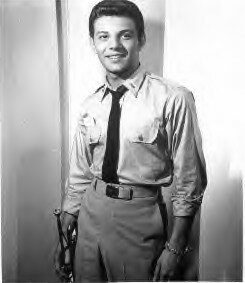 Like Annette, Frankie was also a "heavy lifter" in these films, but more on the side of percentage of script lines than songs. This may have been due to the fact that compared to the other players, Avalon came to the Beach Party series with the most substantive acting resume. By the early 60s, he had already been cast in parts in serious dramatic "A" movies, such as "The Alamo" with John Wayne in 1960, "Panic in Year Zero" with Ray Milland in 1961 and "Voyage to the Bottom of the Sea" with Peter Lorre and Barbara Eden in 1962.
In addition, Frankie like Annette had an existing, successful pop recording career. In fact, he was coming off his peak musical period when he started the Beach Party series; between 1958 and 1962, he had two number one singles and made the Billboard Top 40 over a dozen times.
That success hadn't come overnight. Avalon -- who by age eleven had already become an accomplished, highly capable trumpeter -- first worked his way up from local Philadelphia performance roles to appearances on national TV. At the round old age of twelve, he began playing trumpet in a local South Philadelphia group (Rocco and the Saints, which notably also included future teen idol Bobby Rydell on drums). In that band, he sometimes doubled as a singer, which eventually caught the attention of the owners of Chancellor records. His first few recordings for Chancellor didn't go anywhere, but fortunately the owners stuck with him, and in 1959 he hit gold with "Venus," which sold over a million copies in just one week (an absolutely phenomenal accomplishment, which puts him in a very select club, with people like the Beatles and Elvis). That lead to a peak era when he was a regular on both American Bandstand and every top 40 station in the country. That success in turn led him to California and Hollywood, were his clean cut good looks, intelligence and approachable, personable demeanor immediately opened doors.
Accordingly, Avalon was an obvious candidate for AIPs new Beach Party movie in a starring role that involved singing. He eventually appeared in six of the seven Beach Party movies, but really starred in only four of them (he had small, cameo appearances in the two others). Most of his singing was in duets, in the average film he had only one solo, which was sometimes a dance number. As the musical score review sections in this site discuss, Avalon was most effectively deployed when given slower ballads, which took full advantage of his smooth, "crooning" vocal style.
Unlike Annette, Avalon tired of the series early. After a year and half of acting in the first three films, he took a break in mid 1964 and pretty much dropped out of the fourth picture (Pajama Party, in which he has a small cameo). He became re-engaged in things late that year when he starred in the fifth production, Beach Blanket Bingo, but "dropped out" again immediately afterwards, again performing only in cameo mode in the 6th film (How To Stuff A Wild Bikini), which was his last in the series. This wasn't, however, the end of his activity at AIP; he made four additional films there between 1965 and 1966.
Also worth mentioning is the professional relationship the Beach Party movies led him to develop with Annette Funicello. She had met Avalon prior to being cast in Beach Party, but they really didn't develop their friendship until they began working on the series. When it ended, they continued to to be cast together (briefly in film, but for decades in guest star roles on TV). They even tried to develop a proprietary television series in the 1970s.

Sociologists and marketing types will tell you there's a proverbial 25 to 30 year nostalgia cycle, whereby people are almost genetically programmed at age 35-45 to start becoming re-interested in the culture they experienced as teens. Interestingly, in the early 1980s (just when those who would have been in their teens in the early to mid 1960s began hitting that critical window) Avalon and Funicello started discussing how they might develop some sort of duo comeback. Those efforts commenced when they recorded a holiday single together in 1981 (left), accelerated with discussions about producing some sort of Beach Party "reunion," peaked with the filming and release of "Back To The Beach" in 1987 and faded to a close after a short nostalgia concert tour two years later.
Subsequent to that (and Annette's retirement due to her health), Avalon has continued to work -- as have many of his pop idol peers -- by making concert appearances, primarily on the dinner theatre and nostalgia concert circuits. Like many other vintage celebrities of the baby boom era, he's also leveraged his name to get into the personal care products business, where he sells his wares both online (at Frankie Avalon's Official Web Site) and through TV shopping network appearances.