(Usually cast as "Dee Dee," Frankie's on-again, off-again, marriage-minded girlfriend)

Her character may have been named "Dee-Dee," but another moniker (taken from the liner notes of one of her record albums) better describes her true role: Queen of the Beach.
Or stated differently, one can't possibly mention the term "Beach Party Movies" without Annette Funicello immediately coming to mind, and that's even more the case regarding the music of the series.
For when it came to the music, Annette was inarguably the primary attraction of these films. She had starring roles in six of the seven movies, during which she performed more musical numbers than any other cast member. In the average film, Annette sang four times, usually as part of a duet or ensemble on the title piece as well as at least two or three ballads (as solos and/or duets). Interestingly, despite her years of prior experience doing song and dance numbers at Disney (both as Mouseketeer and movie star), she rarely did dance pieces in these movies. In fact, she performs only three, the title number in Pajama Party and two pseudo-dance pieces (she was three months pregnant at the time on one of them, so her choreography in that particular number is understandably limited) in Bikini Beach and How to Stuff a Wild Bikini.
So, just how did Annette end up getting the role that led to this legacy? Well, there are different stories floating around about that.
What is clear is that prior to the start of the series Annette and Walt Disney knew she needed a change in career direction. By late 1962, Annette was 20 and had clearly grown out of her "kiddie" positioning as a Mouseketeer. Walt did his best, but could only find so many internal casting opportunities for a "grown up"" Annette. She'd appeared in a handful of live action movies for Disney, and still made occasional appearances on his Sunday TV show, but this wasn't leading to very many starring role opportunities outside of his company. Also, a pop singing career that started in 1959 and which had produced a handful of hits had plateaued (by early 1963, Annette hadn't charted in almost almost three years).
The generic short Funicello biographies just generalize at this point, stating

"Annette then became a star in the Beach Party movies."

What is never discussed is how that happened, e.g. who approached who, whether Annette wanted the part and whether Walt was happy with her being cast in the films.

Well, the Disney/Funicello version of the story is that AIP approached Walt, looking for an affordable, beautiful brand-name leading lady who could sing (ergo, Annette) for their trendy new "surfing" movie. Walt supposedly reviewed the script, though it was "fun," discussed it with Annette and when she showed interest finalized a deal.

Intriguingly, the AIP version of this story is different. In an interview for a documentary on AIP produced less than a year before his death (in September of 2001 at 83), Samuel Arkoff (who co-founded the studio in 1954 and ran it until it merged with Filmways in 1979) strongly implied AnAnnette and Walt, circa 1960 AIP approached Funicello or her agent directly and cut some sort of deal. He then said that said Walt Walt subsequently went ballistic when he found out (Arkoff claimed Disney actually telephoned him, saying "what are you doing to my little girl?," to which Arkoff said he replied "she's not little anymore.")

So, which is the truth? Unclear, although the evidence strongly leans towards the Disney/Funicello "party line" version.

This is because Annette was under contract to Disney, and given her reputation as a completely straight shooter it is virtually impossible to believe she would try in any way to "go around" Walt, someone she clearly respected if not loved (either by blatantly violating the terms of her contract or by finding some sort of "hole" in it). Also, Arkoff stated that after Annette "fled" Disney to AIP "he (ergo, Walt) never used her again." This is simply untrue; Annette made several Disney films simultaneous to the Beach Party series (example to right) and continued to record for Walt's Buena Vista label through 1965, including four LPs that were directly related to the AIP series. That would never have happened if Funicello had been "blacklisted" at Disney, which obviously shoots a big torpedo into Arkoffs' credibility.
On the other hand, for the sake of objective debate, one has to take into account the completely indisputable evidence (discussed in the first link below) that Annette didn't keep (perhaps unintentionally) a supposed "promise" she made to Walt regarding these movies. Which leaves open the possibility that she and/or her agent might have been willing to "work around" Walt to some extent (particularly if they saw opportunity with AIP and thought Walt would somehow be an obstacle).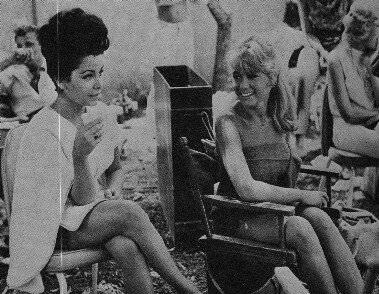 Bottom line: the absolute truth will probably never be known, and frankly it really doesn't matter. For what it's worth, again, I'm strongly inclined to believe the Disney/Funicello version; there are just too many holes in Arkoff's story, and he strikes me as having been a huge embellisher. In fact, that was probably the primary reason for his success: a promoter of low budget B movies by nature has to be good at embellishing.
And irrespective of how she came to these movies, they represent the most colorful and interesting period in Annette's career. Yes, she was the most famous original Mouseketeer, and yes, many still pigeonhole her as "the lady in the Skippy ads..."
...but none of that history is as engaging or intriguing as the 1960s reign of the Queen of the Beach.
And for a taste of just why, read on below:
Rare "behind the scenes on the set" shot of Annette chatting with actress Bobbi Shaw, the "ya, ya" girl
Annette and Buena Vista Records