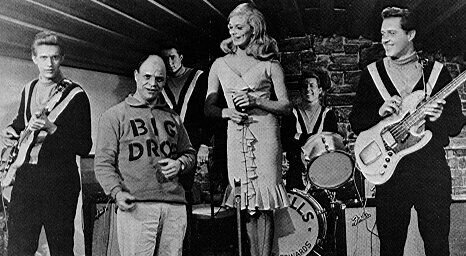 Between August 1963 and April 1966, American International Pictures (AIP) released seven Beach Party movies. The cast of each varied, as did the musical artists.
By the way, contrary to the stereotype in most peoples' heads, these films did not always star "Frankie and Annette." They actually appeared as the starring couple in only four of the movies. As the series progressed, Avalon became a secondary cameo character and both he and Annette actually dropped out completely after the sixth film.
In most cases, the featured stars had the majority of the musical numbers, followed by a solo or two by secondary actors or "guest musical stars."Donl Don Rickles, Linda Evans and The Hondells in Beach Blanket Bingo
However, musical appearances were not limited to the leading players in these films. As example, one cast member, Donna Loren, managed to sing duets and solo numbers in four of the Beach Party movies while simultaneously getting only a single, small speaking line. Others, like Dick Dale, appeared in the scripts primarily as "musician." Some of the movies featured a guest star artist (e.g. Stevie Wonder) who got to perform a solo of one of their presumably hot singles. Others, such as the Pyramids or Kingsmen, got to play the non-speaking but performing role of "house band" at whatever club (and there was almost always a club, usually named 'Big Daddy's") ended up in the script.
So, while many different people performed musical numbers in these movies, most of the material was done by a handful, specifically:
Annette Funicello Frankie Avalon Donna Loren Dick Dale
Candy Johnson and (the/her) Exciters
Harvey Lembeck and the "Ratz and Mice" cast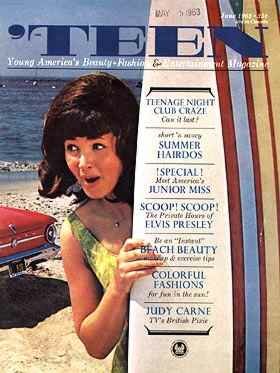 Others who performed musical numbers in at least one of these films included:
- Several early 60s California bands (The Pyramids, The Hondells)
- Several "brand name" guest stars (Dorothy Lamour, Mickey Rooney)
- Several actual top 40 pop stars/bands (Nancy Sinatra, Stevie Wonder, the Kingsmen, The Bobby Fuller Four)
· At least two "ringers" (in the fifth and sixth films, there are numbers where the voice you hear singing isn't actually that of the actor "doing" the number, but rather a professional singer who overdubbed the vocal track).
T
Spring 1963: Donna Loren previews her future