Released on undetermined date in early 1965.
Available on video? Was commercially released by two different distributors (Continental Video and American Video, right) on VHS back in the 1980s, those tapes are now out of production; copies show up from time to time on eBay. Can be also obtained from the Video Beat (see link section).
Soundtrack LP? Yes, released by Hanna-Barbera Records in 1965 (HLP 8500 mono, HST 8500 stereo, both with gatefold covers, shown below, right). Like most clone soundtrack LPs, quite tough to find.
Synopsis: a group of college friends attempt to create their own summer employment by becoming concert promoters at a lakeside resort in the San Bernadino mountains. Despite the challenges of romantic triangles, rumbles and thugs, the kids succeed in bringing in an impressive list of brand name pop talent.
By mid 1965 -- almost two years after the introduction of the genre -- the popularity of the Beach Party theme was at its peak.
Following the huge box office success of Bikini Beach the prior summer, several major studios and a host of independents rushed to cash in on the massve popularity of teen-oriented musical films. By early the following year, those productions started appearing in theatres, and eventually 1965 became the heaviest year of clones, with a total of fourteen "copies" of the popular AIP series being released. That gave audiences plenty of choices, and forced producers to work harder on differentiating their movies, either with the stars, musical attractions, locations and/or storyline.
National Talent Consultants, Inc. --the producers behind A Swingin' Summer -- took all these paths. First, they managed to assemble a set of musical guest stars who were almost all at or near the top of the charts at the time of the film's release (unlike most other clones, there are few unknowns, "has beens" or "past their prime" acts in this show). Secondly, they placed their storyline not on a beach, but in a summertime mountain lakeside resort setting. Third, they built their script not around a gang of comedic kids "hanging out", but rather a handful of serious college students struggling -- against the backdrop of a rather morose storyline -- to develop their own summer employment as concert promoters. The result was truly unique; a heavily musical but rather dark Beach Party clone.
But that shouldn't imply that the film doesn't contain all the "guilty pleasure" elements of the genre, for it does. The "mobs doin' the swim and watusi" dance sequences in this film are as wild and provocative as those ever got, the cheescake is almost endless and all that is mixed with frequent, perky musical interludes (which are stereotypically forced into whatever immediate opening the script affords).
On its own, all that would make A Swingin Summer worth a look, but to quote the old Ronco TV adline, "wait, there's MORE!!" In this case, the bonus attraction is the starring role debut of a twenty five year old single mother named Jo Raquel Tejada, who is now better known by her then brand-new casting moniker: Raquel Welch. This role was her last as an obscure actress, filmed only a year before she exploded into worldwide fame as a bikinied cavegirl in One Million Years B.C.
The Score of A Swingin' Summer

The writers and director don't waste a moment letting us know that this excursion is going to feature different geography, a more dramatically oriented script and currently "hot" musicians. Rather than starting off with a standard title sequence, we get several minutes of introduction to the primary characters (and their summer employment dilemma) before the titles and title music run.
Meet Rickey, Rick and Cindy, three college pals who are all excited about working at the upcoming concert series at the Lake Arrowhead resort for the summer. (We immediately note that Cindy -- the demure, sensitive female lead -- is being played by Quinn O'Hara, in a big contrast to her subsequent role the following year as the sexy, evil temptress "Sinistra" in The Ghost In The Invisible Bikini.) While driving up in their gold 1965 Mustang convertible (again, the proverbial "hot" car in this genre), they unfortunately learn (from a radio announcement) that the series has been cancelled.
After they agree to try and talk the resort manager out of the cancellation, the titles run under some dramatic establishment shots of their drive through the San Bernardino mountain range. Simultaneously, the soundtrack pounds out A Swingin' Summer, an upbeat, somewhat country-ish orchestrated title piece, with a full chorus led a strong, confident female soloist. The titles then proudly announce that the voice we're hearing is none other than that of brand-new Grammy winner Jody Miller (above, left), at the time arguably the best "girl singer" on the charts (who was enjoying big success with her smash "Queen of the House," which got all the way up to #12 on the charts). This is the first evidence that the producers want to impress the audience with their "A list" music lineup.
After getting to Arrowhead, the friends meet with the manager, but fail to sell him on their idea of acting as their own concert promoters (they don't have adequate capital). Cindy -- who apparently comes from wealth -- subsequently intervenes by privately speaking to the manager and agreeing to have "Daddy" put up the funds necessary to promote the shows (with the tacit agreement that Rick won't find out, since Cindy doesn't want to bruise his ego.).
Shortly thereafter, we are briefly introduced to "Jeri," (right) the quirky character played by an unknown named...Raquel Welch. Jeri is awkwardly written; on the surface, she's seemingly just another bikinied coed hanging around the resort for the summer, but on closer inspection we see she's not just another beach bunny. Jeri wears glasses (a costume accessory designed to broadcast a "prude/nerd alert" signal to audiences) and always appears with a notepad. The latter is employed heavily, Jerry takes notes....while blatantly staring at boys from the sidelines. Initially, this peeping-Tomette has few lines, but as the storyline evolves, we hear more from Jeri, and the rambling, pyschology professor nature of her character is presumably designed to lead the audience into pigeonholing her as a "wacky academic" type. It eventually turns out that Jeri's "project" for the summer is finding a boyfiriend, who once selected will be scientifically conditioned to deliver the "appropriate" romantic experience.
Frankly, this sort of slightly perverted, pyscho-blabber role would have been tough for even a gifted comedienne like Madeline Kahn to pull off, which makes throwing it into the lap of then-neophtye Welch almost crimminal. Despite giving it the old college try, her performance throughout the film is stilted and forced, which is unfortunate; one wants to see the future star succeed.
Presuming Welch knew the role was that awkward, why did she even take it? Out of need, most likely: this part came during the end of a lean, tough period in her career, where she paid the bills primarily by playing bit roles. Loren -- who was born Jo Raquel Tejada -- had grown up outside San Diego and married young (her high school sweetheart, shortly after graduating in 1957). As they started a family, she won some local beauty contest titles, which led to some casting opportunities in bit roles in TV shows and films ("A House Is Not A Home" and the Elvis Presely film "Roustabout"). A potential "starring role" break came in 1964, when she auditioned (unsuccessfully) for the role of Mary Ann in "Gilligan's Island." That same year, Loren divorced, which by the time of this production made her a working single mother of two.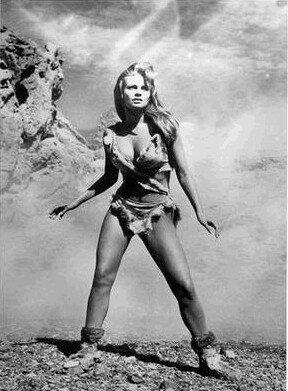 After A Swingin' Summer, however, things finally broke for Raquel. In early 1966, she landed a contract with 20th Century Fox, which immediately led to a plum starring part in the big science fiction hit Fantastic Voyage, and later that year, her classic, trademark role as "Loana" in One Million Years B.C. (the image of Welch in that fur bikini -- left -- becoming a beyond-legendary icon, to this day emblazoned on the mind of every and any male who came of age in the mid or late 60s.)

After the introduction of more characters, including further development of one of the villians -- a self-impressed, nasty lifeguard -- we finally get to some music! A bus rolls in, and out jumps Gary Lewis, announcing he's arrived with the Playboys and is ready to "rehearse," while noting "the boys and I prefer to do that with an audience." With that thin excuse for a musical interlude, we abruptly cut to a close up of a bright red bikini bottom furiously wiggling to the sound of Gary thumping away on his Ludwig rack and floor tom. That's the intro to the pounding instrumental Nitro, a guitar-focused uptempo dance number. Before getting into more discussion of this segment, however, let's dwell on the band for a moment, for their story is rather interesting.
Getting this group to play the role of the "house band" in the film was a coup for the producers, for they were at their career peak right when the film was released. In fact, even though they were was less than a year old at the time of this production, Gary and his band were chart toppers all through 1965.
Lewis -- the son of comedian Jerry Lewis -- formed his band in 1964 at age nineteen. In addition to Gary on drums (which made this and the Dave Clark Five the only two major 1960s pop acts led by drummers) the Playboy lineup (shown above, right) included John West on accordian (yes, accordian, don't ask me how that instrument found its way into a rock n' roll group, no one knows), and three guitarists: David Walker on rhythm, David Costell on lead and Al Ramsey on bass. After some local appearances in the L.A. area -- including a gig at Disneyland -- they were picked up by Liberty Records. While that was opportune, the real benefit came when Liberty handed the fledging group over to producer Snuff Garrett, who is generally recognized as one of better pop fabricators of period. Garrett-- recognizing that Lewis and the band had at best meager abilities -- immediately went down the "ringer" path, ergo, bringing in the best songwriters and studio session players available (including the likes of Glen Campbell and Leon Russell) to develop the recordings. With backup singers augmenting Lewis, Garrett went to work, and over the next year and a half produced seven top ten hits for the band.
Most of these came right when this film was in release, so the timing couldn't have been better to have The Playboys in the movie. In addition to having appeared on the Ed Sullivan Show in January of 1965, and Shindig later in the year, audiences at the time were more than familiar with the band from radio, which was featuring "This Diamond Ring" (a Billboard #1 hit in January 1965), "Count Me In" (reached #2 in April), "Save Your Heart for Me" (another #1 in July), "Everybody Loves a Clown" (got to #4 in September) and "She's Just My Style" (reached #3 in December). That record is even more impressive when it's noted it occurred during a time when the charts were dominated by the British Invasion and Motown. And when one takes into account similiar mid-60s attempts by other celebrity offspring to break into the music biz, Gary's success looks positvely phenomenal: the sons of Dean Martin, Lucy Ball & Desi Aranz tried this same schtick when they formed the Dino, Desi & Billy trio, as did the sons of TV Star Soupy Sales with their Tony & the Tigers group, but neither experienced anything like the success of Lewis.
This glory ride for Gary and his band was brief, however, for his draft call in 1966 ended their chart era.
Well, now that you appreciate the group, back to Nitro: not only is this ferocious instrumental fun, but the viewer is treated to a good three minutes of uninterrupted classic watusi wildness. Clearly, the director had been instructed to make sure this film featured as much fanatic dancing by attractive kids as possible, and he starts off on that assignment here with a bang.
We then have to sit through a good twenty minutes of soap opera, which primarily revolves around the messy romance of Cindy and Rick (right). She wants to have a fun summer at the resort; he is all work and no play, which leads her to flirt with the nasty lifeguard, creating the proverbial romantic triangle and its inevitable friction. But finally the kids manage to get their "nightclub" up and running, and it's show time again.
That starts out with a brief introduction piece by the Playboys (Out To Lunch, all 15 seconds of it). The first concert of the series finally kicks off with twenty six year old Donnie Brooks, who rushes onto the stage after being inroduced as "Mr. Personality" and goes right into a bouncy slow-tempoed blues number titled Penny The Poo (no, I did not make that title up). Despite the relative stupidity of the piece ("they call her Penny The Poo, she knows just what to do," etc. - you get the idea), this big, jovial fellow puts on quite the show, dancing out into the audience and even letting a girl wiggle on his back. Frankly, Brooks (who also recorded under the names "Dick Bush" and "Johnny Faire") is the only footnote level musical attraction in this film, in essence a one-hit wonder who had scored big -- real big -- six years earlier with a corny but heartugging little ballad called "Mission Bell" (copy of 45, above, left). Years later, he actually hit his performance peak, when he delivered a very well-reviewed characterization as Christ in "Truth of Truths, " an obscure 1971 rock opera which was A radiant Quinn O'Hara with her a knockoff (albeit a well executed one) of Jesus Christ Superstar. co-star William Wellman, Jr.
After Donny's performance, we then go into another twenty-five minutes or so of intervening storyline, which primarily involves slow, overly-drawn out development of (a) the romantic triangle storyline and (b) the evil conspiracy of the nasty lifeguard to sabotage the concert program. The latter involves hiring some thugs to intentionally disrupt the next show by starting a fistfight at the gate.
Before that happens, we fortunately get some more music at the concert series. The show opens with Gary and his band ending some unnamed dance number. Gary then introduces "Columbia Recording Artists The Rip Chords," three sweatered dudes (right) who finally throw some real West Coast musical icongraphy into things with Red Hot Roadster. With the Playboys backing the trio, we get to enjoy some bouncy, mid-tempo classic mid 60s California pop, a snapshot of purely generic but still enjoyable top 40 hot rod music. This is a short but actually quite interesting appearance, given the Rip Chords were actually The "touring" Rip Chords in 1965, behind a a "revolving lineup" studio group that was already disintegrating by the time genuine Shelby "Cobra" this film was appearing in theatres.
The band had formed the prior year with the duo of Ernie Bringas and Phil Stewart, who attempted to jump into then burgeoning hot rod and surfing genre under the guidance of producer Terry Mulcher (who used overdubbing to make them sound like a much larger ensemble). After striking out with two unsuccessful singles, Melcher -- like Snuf Garrett with Gary and his Playboys -- went down the "ringer" path and took over the lead vocal reins himself, along with partner Bruce Johnston. They finally struck gold with "Hey, Little Cobra." Following right on that success was more lineup shuffling; Bringas left to go to divinity school, and Stewart brought in two new members (Rich Rotkin and Arnie Marcus), with those three becoming the "touring" version of the band you see here (and in the pictures above). This studio/road "consortium" managed to release two LPs and several related singles, but other than "Cobra" none really caught on, and the group disbanded in late 1965.
After more drama involving a game of chicken played on water skis, we get to enter the twilight zone of this cinematic genre. The scene starts in the evening, at the latest concert just as the Playboys are finishing a number. Raquel Welch turns to her date and quotes A Tale of Two Cities, with the classic line "it's a far, far better thing I do today........" That dose of literacy -- plus the fact she is now working her way to the stage -- gives the viewer the sense something is up, and soon the reality of that "I'm going to my execution" quote soon becomes apparent.
That occurs when Raquel gets up on the stage, and Gary and the Playboys break into a jazzy Broadway-style riff. What follows is a "performance" of I'm Ready To Groove, Raquel's first (and only) musical film appearance.
Clearly, what the scriptwriter intended here was a dramatic "ugly duckling to swan" transition, e.g. the nerdy, quirky Jeri suddenly transforming into a sexy songbird. What we actually experience is something else entirely: a brief excursion into the realm of truly high camp, which feature singing and dancing that hold the viewer hostage by virtue of being so immensely, deliciously, unbelieveably....awful.
Just how bad? Let's just say that this is -- without any doubt whatsoever -- the absolute musical rock bottom of the entire Beach Party gernre. Dig as deep as you want, it just doesn't get any shoddier than this. Yes, this is even worse than the discordant warbling of the Del-Aires in The Horror of Party Beach, more painful to endure than the last two appalling numbers in The Girls on the Beach, more artistically gruesome than Frankie Randall's moldy beachfront love "ballad" in Wild on The Beach, even surpassing -- in fact, exceeding by bounds -- the sum total of all the horrific "musical performances" in one of the worst of all the clones, Winter A-Go-Go. While those were just bad performances, this takes the concept of poorly-executed-tacky-tastelessness to an entirely new level. What you're watching is literally a train wreck, a horrific, torturous waste of an actress, and as such...you just can't take your eyes off it.
While we're still grimacing at the guilty gratification of having sat through that morbid display, it's time for the requisite dramatic climax. This comes when the thugs (accompanied by the still grudge-holding lifeguard) break into the box office and steal the cashbox. That leads to an overlong speedboat chase (with C-grade "night-for-day" photography) on Lake Arrowhead, which (of course) results in our heroes recovering their money after more obligatory fist-fighting (the casting of males in this thing seems to have been primarily based on how well they faked getting slugged). They and we return to the resort just in time to catch the highlighted musical act of the evening, which happens to be the Righteous Brothers.
Well, thankfully the producers saved the best for last, as the duo of Bobby Hatfield and Bill Medely rip into Justine (screen shot, right; that's Medely on the left, Hatfield on the right). Now, if you're like many viewers, their performance here will come as a shock, for this is not a dramatic, baroque ballad, the sound that most associate with these guys (as example, classics like "Soul and Inspiration" and "You've Lost that Lovin' Feelin"). Rather, it's a stripped down, uptempo blues piece, one that almost sounds like garage band material. Watching Hatfield and Medely (who as you have probably guessed weren't brothers) screech out the back and forth vocals in this roaring thing is a joy, and should leave no doubt in anyone's mind as to why these two literally inspired the mid-'60s term "blue-eyed soul."
This appearance came right at the peak of their career (in fact, at the time of this release they had just set a record as the first artists to ever have three albums simultaneously in the top 20). The pair had started out in 1962 as alumni of two different doo-wop acts, and slowly got into a R&B routine while recording with limited success on the Moonglow The Righteous Brothers rock out during "Justine" label. Most of their material during that time was energetic Ray Charles type stuff similiar to Justine (which almost makes their performance here look like an engagement in "ten minutes ago" nostalgia). Things changed in 1964, when they somehow fell into the hands of Phil Spector. He did his typical voodoo in the studio, and in the process completely changed their sound: the doo-woppers abruptly turned into haunting balladeers, singing against a wall of heavy orchestration and chorus, all buried in endless echo. That sound immediately rocketed then into the top ten, and kept them there for over a year and a half, during which they produced some of the memorable pop ever recorded. During that time, the pair seemed invincible, but like most mid 60s icons, their glow quickly faded as pyschedelia emerged, and by 1968 their career as chart regulars was over.

They broke up that year, with Hatfield attempting to carry on the duo with another singer. That didn't work, and after years of solo efforts, the original pair came back together in 1974 and immediately had a surprise hit with Rock n' Roll Heaven. After a brief period of subsequent touring, the pair basically fell off the radar screen until 1982, when they gave a magnificent, emotional performance of Rock n' Roll Heaven on the American Bandstand 25th Anniversary show. That renewed their popularity and led to the start of an ongoing successful career on the "nostalgia" tour circuit. In March 2003, they were inducted (in what many -- including this author -- felt was "long, long overdue form") into the Rock n' Roll Hall of fame (photo of pair from that ceremony, left).
Sadly, on November 3rd of that year, Bobby Hatfield died unexpectedly at age 63, of heart failure (caused by acute cocaine intoxication) in Kalamazoo, Michigan, only hours before the duo was scheduled to perform while on tour.
So with that background, enjoy Justine. Just as in another clone (Wild, Wild Winter), the final guest artist number here actually runs right through the brief, boilerplate closing credits. Actually, quickie, cheap closing titles are a common element in many clones, which raises an observation: the more Beach Party copies one watches, the more one appreciates some of the minor but notable touches -- like quirky, entertaining closing credits that hold your attention -- that AIP put in their films. Yes, James Nickolson and Sam Arkoff were penny pinchers, but they were creative enough to make their productions entertaining right through the last second of the last reel.