If imitation truly is the sincerest form of flattery, AIP heads James Nickolson and Sam Arkoff should have been quite impressed by 1965. For by that time the success of their Beach Party series had spawned a host of copies, many even distributed by major studios. Production of "clones" actually started in 1963, as soon as it became apparent that Beach Party was going to be the most financially successful film AIP had ever produced, and continued for the next four years.
In general, the imitations all had certain basic core elements of the genre in common. All featured dancing kids, and pretty -- usually bikinied -- girls. While most were set at the beach, other locations were also employed: ski slopes, college campuses, racetracks, small towns, and even a military base.
Of course, all contained lots of pop music, albeit almost all the clones varied somewhat from that area of the "AIP playbook" in several important ways: first, the films usually weren't scored as musicals; rather, they simply contained a bunch of non-script related stand alone pieces. Second, the storylines weren't always comedic; a number of clones discussed here are scripted as dramas, with a few even delving into the realms of mystery and horror. Third, the stars in the clones usually didn't sing; instead, contemporary pop artists were usually brought in to do the music, which was often their own material. This had two benefits: the copies didn't need to restrict casting to singing actors, and secondly, having current top 40 stars performing their supposed "hits" added major promotional benefit.
So here they are, the Beach Party clones (over two dozen in total), categorized by setting and in order of release (underlined ones in yellow are linked to score write ups). Note that ones with a * notation are known to contain particularly interesting/notable music (good scores and/or performances), and will be receiving priority in terms of getting a detailed score analysis page. (An additional technical note: all these films were shot and released in color unless noted otherwise.)
The "pure" clones (ones set on or near water, featuring surfers/waterskiers/whatever and bikinied girls)
Palm Springs Weekend (Warner Brothers, 1963) The earliest true clone. Was actually in production before Beach Party, but was tweaked during editing to mimic elements of the AIP film when the latter (which was released first) became a box office hit.
Surf Party (20th Century Fox, 1964) Produced in black and white. As the timing, title and casting of pop stars in lead roles imply, this is perhaps the most blatant Beach Party "ripoff." While it represents an earnest (and occasionally entertaining) attempt at a fully scored musical, it's seriously hobbled (despite the best efforts of Bobby Vinton, Jackie DeShannon and a cute, cute, cute Patricia Morrow) by low budget production values and an overdramatized, stilted script.
For Those Who Think Young (United Artists, 1964) Perhaps the least musical clone, but otherwise screams "beach 60s!"
The Girls On The Beach a.k.a. The Summer of '64 (Paramount, 1965)* Contains rare Beach Boys musical performances (only ones ever in a "surf" film), and three wonderful numbers by Lesley Gore at her 60's peak.
Wild On The Beach a.k.a. Beach House Party (Paramount, 1965) Produced in black and white. Like Surf Party, this is a relatively obvious carbon copy of Beach Party, particularly when one notes the "a.k.a." release title! Music is uneven, but there are a handful of notable performances, including one by Sonny and Cher as well as the film debut of Jackie and Gayle.
One Way Wahini a.k.a. One Way Wahine (Continental Pictures, 1965) Limited music (mostly dance scenes), but features Joy Harmon (right), one of the more interesting "bombshells" of 60s B movie cinema, in her only starring role. It's also the sole clone filmed in -- and featuring -- beautiful Hawaiian settings.
Beach Ball (Paramount, 1965)* The scripts didn't get much dumber than this, but it's hard not to enjoy yourself when the Four Seasons, Supremes, Righteous Brothers, Walker Brothers and Hondells all drop in to provide the musical interludes. And the scenery (left) doesn't hurt, either.
Daytona Beach Weekend (Sixtieth Arts, 1965) The most obscure clone. Shot in "amateur" 16mm format, the original release (blown up to a grainy 35mm) was very limited, solely in southeastern drive ins, and the movie is now impossible to find from any source (there are even claims it has been completely lost, but that is unlikely, given recent reviews of it exist). The lack of access to this clone is unfortunate, for it supposedly contained great Del Shannon perfomances.
Chris Noel in "Beach Ball" A Swingin' Summer (United Screen Arts, 1965)* Starring Joy Harmon, circa 1964 1964 role debut of Raquel Welch, who performs the first (and last, a viewing suggests why) musical number of her cinematic career. Redeemed by virtue of including a lot of fun, upbeat material by Gary Lewis and the Playboys, and the fact it ends with a bang with via a classic Righteous Brothers piece.
Chis Noel in "Beach Ball" It's A Bikini World (Trans American Pictures, 1967)* Actually produced in 1965, but in 1965, but release was delayed -- for unknown reasons -- for almost two years. Music is an overly-staged bu yet still interesting grab bag of the more edgy variety of mid 60s pop, which runs the gamut from Br Bitish Invasion (Animals) to domestic one-hit wonders (The Castaways, Toys).
Chris Noel, in "Beach Ball" Catalina Caper a.k.a. Never Steal Anything Wet (Crown International Pictures 1967) This was the last curtain call for the genre, the final Beach Party themed film. Tommy Kirk Kirk Kirk gets the honors as the star of this comparatively fatigued last hurrah. Musical element is provided is provided provided by a peculiar collection of artists, mostly of the "still-fun-but-way-past-their-prime" variant (Little Richard, The Cascades (Little Richard, The Cascades). All in all, this was a rather humiliating way to end the party AIP had started . had started four years earlier.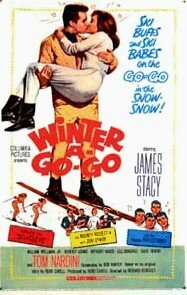 The "frozen" clones (ones set in the mountains, featuring skiers and shapely sweaters along with the music)
Get Yourself A College Girl a.k.a. The Swingin' Set (MGM, 1964)* A real treat, the entire film is basically a continuous, high quality musical variety show, with one particular act delivering what is perhaps the single finest performance of the entire Beach Party genre.
Ski Party (AIP, 1965)*AIP finally goes skiing, with so-so results. Music is limited, but what's here isn't bad: Leslie Gore and a classic James Brown number.
Winter A-Go-Go (Columbia, 1965) Stupefyingly poor clone. Director Richard Benedict thing managed somehow managed to take all the positives of the Beach Party theme (music, cheesecake and and comedy) and transformed them into ugly, archiac stereotypes, as the film features terrible songs songs by no-name performers, horrifically tacky characters and an unhumorous "comedic" result storyline. What resulted literally stands as the second worst film in this entire genre, exceeded exceeded only by Monster A-Go-Go (an atrocity described further below on this page).
Wild, Wild Winter (Universal, 1996) * Not-to-be-missed excursion into the mountains for true true fans of the beach party genre. Musically, this overall is one of the best of the clones.
The "institutional" clones (ones set away from the water in places like schools and military bases, but still containing "wild" kids and lots of music)
Sergeant Deadhead, a.k.a. Sergeant Deadhead, The Astronut (AIP, 1965) AIP tries to produce a more "adult" comedy. While music in this is generally forgettable, includes one striking solo number by Donna Loren.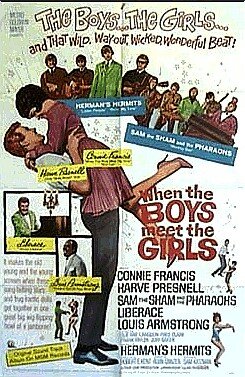 When The Boys Meet The Girls (MGM, 1965)* Both the most ambitious yet incongruous of any movie in the entire Beach Party genre. Essentially a big budget, updated re-make of George Gershwin's 1932 musical "Girl Crazy," one which attempts to mix "teen pop" by Herman's Hermits, Sam the Sham and the Pharaohs with Broadwayish balladering by Connie Francis with turn of the century jazz by Louis Armstrong and general musical weirdness by Liberace. What resulted is an unbelievably strange brew.
C'mon, Let's Live A Little (Paramount, 1967) A late, quirky entrant in the Beach Party genre, due to forced "campus protest" script element that was an attempt to acknowledge the increasingly volatile Vietnam era political environment. Also features rare element (for a clone) of major pop stars being cast as primary characters.
The "hot rod" clones (ones themed around fast cars instead of surfing)
Hot Rod Gang, a.k.a. Fury Unleashed (AIP, 1958) Produced in black and white. Given the release date, obviously not a clone, but notable as being the earliest identifiable "stylistic forerunner" of the Beach Party format, in terms of core components (it added popular music to a fad theme featuring "wild" kids).
The Ghost of Dragstrip Hollow, a.k.a. Haunted Hot Rod (AIP, 1959) Produced in black and white. The sequel to the film above, similar in characteristics and actually an improvement. While still a true "50s movie," it at times really hints at the future Beach Party genre.
The Lively Set (Universal, 1964) Has only a few brief musical performances, but they're by class act 60s songbird Joannie Sommers, in her only film appearance.
Fireball 500 (AIP, 1966) Generally weak music is a sidebar to one of the "edgiest" of any of the clones. Was also the last Avalon/Funicello 1960's pairing.
Thunder Alley (AIP, 1967) Contains few musical performances, but notable as both Annette's swan song at AIP and her last appearance in the "beach' genre.
The "secret agent" clones (ones employing a spoof of the whole James Bond genre as an excuse to exhibit cheescake along with song)
Doctor Goldfoot and the Bikini Machine (AIP, 1965) Not really a true Beach Party clone (no teen gang, and while having a fun soundtrack has no singing musical performances in the script) but included here by virtue of casting, comedic feel and the fact the Supremes perform the title number!
Out of Sight (Universal, 1966)* Wacky, "Batman-style" spy comedy loaded with hit and miss musical interludes. Justfies an asterix by virtue of rare British Invasion (Freddie and the Dreamers) and early pyschedelia (Turtles) performances.
The "horror/monster" clones (an almost inevitable variant, mixing the "wild teens/surfers/ bikinis/music" theme with a "Creature From The Black Lagoon" or "mad scientist" storyline)
The Horror of Party Beach a.k.a. Invasion of the Zombies (Independent, 1963) Produced in black and white. The second earliest clone, and a cult favorite due to overall tackiness and notoriously cheap production values. Only one band (the "Del-Aires") is featured, but they're a hoot.
The Beach Girls and the Monster, a.k.a. Monster From The Surf , a.k.a. Surf Terror (American Academy Productions, 1965) Produced in black and white. Similar in general premise to "The Horror of Party Beach," and almost but not quite as screamingly cheap. While the storyline and acting in Beach Girls is bad -- really bad -- at least it was filmed in California and benefits from some beautiful Pacific coastal settings, unlike "The Horror of Party Beach," which was shot on the happening, red hot town beach of .....Stamford, Connecticut. The musical interludes in The Beach Girls and the Monster are limited, but what's here is great fun: some short but classic "bikini bunny" dancing sequences, and an extended -- and bizarre -- mid-movie "dance party concert" set on the beach at night.
Monster A-Go-Go, a.k.a. Terror at Halfday (B.I. & L. Releasing Corp., 1965) I don't know what it is about the term, but placing the vernacular "A-Go-Go" in the title of a film automatically consigns it to the stinker category (see notes about "Winter A-Go-Go" above). This cinematic calamity -- which barely even makes it into the clone category (only by virtue of primary characters being dancers in a discothèque with live music) was directed by the infamous Herschell Gordon Lewis, creator of some of the most tasteless, idiotic material ever committed to celluloid.
Village of the Giants (Embassy Pictures, 1965)* H.G. Wells meets Tommy Kirk, with musical assistance by the likes of Freddy Cannon and Toni Basil. Almost but not quite as weird a genre stew as The Boys Meet The Girls, and readily as entertaining.
The Incredibly Strange Creatures That Stopped Living and Became Mixed-Up Zombies, a.k.a. The Incredibly Mixed-Up Zombie, a.k.a. The Incredibly Strange Creature: Or Why I Stopped Living And Became A Mixed-Up Zombie, a.k.a The Diabolical Dr. Voodoo a.k.a. The Teenage Pyscho Meets Bloody Mary (Morgan-Steckler Productions, 1964) The mass of convoluted release titles alone are enough make one avoid this mess. Like Monster A-Go-Go, this cinematic catastrophe is the product of another infamous Z-film director, in this case one Dennis Steckler, who -- as described by one viewer "seemed to keep the plot a secret between himself and the screenwriter, because they didn't reveal any of it in two hours." Categorized as a clone by virtue of some actual musical interludes (most of the presumed "story" takes place in the burlesque hall of a decrepit amusement park).
WRITE-UPS ON SELECTED CLONES ARE BEING ADDED FREQUENTLY (as fast as one can, given the need to sit through these things while taking detailed notes!!! Coming up soon is a score assessment of "Surf Party," which was one of the earliest attempts to directly replicate the AIP Beach Party formula!)
Also in development are assessments of "It's A Bikini World," "Catalina Caper," "WInter A-Go-Go," "Wild On The Beach," "For Those Who Think Young," "Beach Ball," "Thunder Alley," "Out Of Sight," "The Horror Of Party Beach" and "The Beach Girls And The Monster"!
CHECK BACK SOON!!!!