Released December 18, 1964 (released simultaneously in the U.K. as the "Swingin Set.")

Available on video? Not commercially released, but like other clones can still be found from various sources. Copies show up on eBay from time to time, and is also available from the Video Beat (see link section).

Soundtrack LP? Yes, on MGM Records E-4237 (mono) and SE-4237 (stereo, right). Was also (for whatever unknown reason) re-released in stereo on CD by Sony Music Special Products in 1992, catalog #074645-24202-6. The latter occasionally turns up on eBay and other on-line used record/CD sites.
Synopsis: vivacious coed songwriter at staid girls' school becomes entangled with both a devious music publisher and a bumbling politician while vacationing at a winter ski resort. What results is a romantic battle and media crisis, set to the background of a classic mid 60s musical variety show.
To no surprise, two of the most lavish, musically elegant clones were produced by MGM. Both this film and When the Boys Meet the Girls reflect the enormous MGM legacy as the nucleus of the golden age of Hollywood musicals, the studio of Astaire, Kelly and Garland. Or stated more bluntly, the firm wrote the book on producing film musicals, and it really shows in both movies. The production values and overall quality of music in each far surpass anything else in the Beach Party Genre, including the original AIP productions.
Note I mentioned production values and music, not script or characterizations. Like almost every other pop film of the era, Get Yourself A College Girl revolves around a rather silly storyline (with female characters that clearly pre-date campus feminism) and generally B-grade acting..
But back to the positives: in addition to the foundation of a good studio spending some money on the production, the movie has other features. To start, it offers the rare sight of a former Miss America in a starring film role. The primary character in this college romp is Terry, a strong-willed, outgoing coed played by Mary Ann Mobley (right), who had won the crown back in 1959 (below, left).
She was representing Mississippi that year, and the "cultured-but-no demure-little-lady-here" qualities in her southern personality shine through just as clearly in this film as they had five years earlier back in Atlantic City (her winning talent performance there still being pageant legend; it started as a highly formal, operatic rendition of Puccini's "Un Bel Di" that creatively segued into a torch-singer version of "There'll Be Some Changes Made," as she stripped down into a rather skimpy costume).
After winning the crown, Mary Ann became a regular on a CBS musical variety show. Several years later, at age 24, she entered the realm of Hollywood in her starring role in this film. After it, she had a brief career in secondary parts in six more movies, including parts in one of Mobley with guitar she used in film Elvis Presley's better efforts (Harum Scarum, which was basically a remake of Kismet) and a Jerry Lewis comedy (Three on a Couch). That phase her career ended in 1968, and outside of a few small guest star roles on TV (she briefly played the original Batgirl on the Batman TV show before being replaced by Yvonne Craig), she subsequently left acting and moved into humanitarian causes, a role she continues to this day. One legacy of that career path is Mobley holding the notable distinction of being the first woman ever voted into the University Of Mississipi Hall of Fame (a select club, including the likes of William Faulkner).
The movie also features some other female actors worth mentioning: this is the second film appearance of Nancy Sinatra (playing secretly married undergrad Lynne; Nancy had started her Hollywood career earlier in the year in a similar ingénue role in another clone, For Those Who Think Young), as well the "clone" debut of a statuesque blond beauty named Chris Noel (left, who does a great job playing Sue Ann, a somewhat bimbo-ish coed), who -- as mentioned elsewhere in this site -- subsequently went on to become a starring lead in two other Beach Party copies (more details on this intriguing lady can be found on the Wild, Wild Winter page).
Yet the real attraction here isn't the starring cast, rather (as the poster above implies), it's the music. Get Yourself A College Girl features not just a great list of starring musical acts, but an extensive one: in addition to a performance of the title number by Mobley, we're treated almost every ten minutes with a new guest artist. That's composed of a wonderfully broad array of acts, running the gamut from two variants of the British invasion, to latin flavored jazz, to early garage rock and even Las-Vegas type lounge. I'd label at least three of these performances as among the better in any clone, with one being at or near the top of anything that ever appeared in the entire Beach Party genre.
The Score of Get Yourself A College Girl
This thing doesn't start off with any particular bang, but don't let that deter you from staying with it. The titles are of a rather generic mid 60s variety, featuring drawings of an abstract couple jerkingly dancing on the left as the titles scroll by. Notably, all the musicial acts are introduced first, with all the actors being lumped into a following category titled "co-stars" (if that isn't a clue as to where the Producers had their hearts, I don't know what is). The background score that runs behind all this features Donnie Brooks belting out The Swingin Set, a bouncy uptempo rocker whose title (as noted above) served as the release name for the U.K. variant of this film.
The action then opens with a scene that is erriely reminscent of the beginning of Animal House: an establishment shot reveals a ivy-laden campus setting, with the camera panning to a statue of the founder. Well, here we are at Wyndham College for Girls, founded in 1912 by Matilda Wyndham (who looks like one serious battle-ax). A a nice tracking shot takes us through the window of a dance studio, where inside a group of pretty coeds in leotards are diligently practicing ballet. Formal old Dean Stone is checking the class out, but as soon as she leaves, the girls grin at each other as Lynne (Nancy Sinatra) locks the door. Marge, their blond 20-something instructor (played by character actress Joan O'Brien) then asks them how they are going to dance with their boyfriends at the upcoming holiday fete, PPublicity shot with Joan O'Brien, which leads Theresa Taylor (e.g. "Terry," played by Mary Ann Mobley) to prance over t Chad Everett and Nancy Sinatra to a record player, dropping a needle onto a twangy, bouncing rock number (an instrumental reprise of the The reprise of The Swingin' Set). We immediately realize we are sitting back to enjoy a cheesecake fest, as the girls erupt into wild dancing. For whatever reason, the short sequence of classic gyrations that follows fascinates me far more than it probably should...
ahem....well, we subsequently learn that Terry is living a risky double life at staid Morris. By day, she's a polite, serious student, but she's funding her education "after hours" by secretly writing notoriously provocative pop songs (and in fact is urged by Marge to do one at the party that night). The latter are being sold to and published by Gary Underwoood, an opportunistic agent in New York (whom Terry has never met in person) played by Chad Everett.
We're then introduced to Gary, who is on the phone trying to reach Terry. Instead, he ends up speaking to Dean Stone of Wyndham, and stupidly lets her know he's trying to reach Theresa Taylor, "who writes songs for me under the name Joanie Harper...she's got a new one coming out, real great, real sex bomb title, 'Get Yourself A College Girl."
We then cut to the local "go-go club" where the Wyndham pre-Christmas vacation fete mentioned earlier is now rocking away. This is the setting for the first of three extended musical interludes in the film, and the long establishment shot here is fun: as the camera pans a go-go dancer (in red, of course) and the dancing crowd, a pounding recording of a cover of Boney Maronie by the Standells blasts away. The Standells, you say? Well, since this band gets the role of "stepchild" act in this movie (e.g, they're used solely as background music, and unlike the other starring musical artists get little direct screen time), let me educate you briefly on this underappreciated Los Angeles combo.
There were really two variations of the Standells, the one you experience here being the early, relatively fun but mild pre-1966 version (one of their LPs from that era, above right). At that time, the group (which included Gary Leeds, Dick Dodd, Larry Tamblyn and Tony Valentino) was bouncing between labels. Recording for Liberty, MGM, and Vee Jay, the Standells produced energetic but comparatively bland material while their agent got them a reasonably large amount of TV work (including a notorious guest appearance on The Munsters, where they performed an absolutely horrific cover of "I Want to Hold Your Hand") and a slot in this film.
Things changed dramatically in 1966, when the group came under the wing of producer Ed Cobb. He toughened their image overnight when he had them record a song he'd penned called "Dirty Water." If that name doesn't ring any bells, I assure you the gritty sound of the first two measures (thumped out by a grungy sounding, tube-amplified rhythm guitar) will immediately refresh your memory. Despite the fact the band didn't even like the number, it went on to almost make the top ten and left a legacy of being one of the first true "garage rock" numbers to ever grace the pop charts. Riding on that success, the band quickly transformed itself into an edgy version of early pyschedelia, and over the next two years punched out four albums (mostly on the Tower label). The "high water" mark of that phase of their career was an appearance in another pop film, 1967's Riot on Sunset Strip (which features an impressively tense title number by the band.) Unfortunately, poor management and continual lineup changes eroded the creative strength of the group, and they stopped recording after 1968 and disbanded in the early 1970s.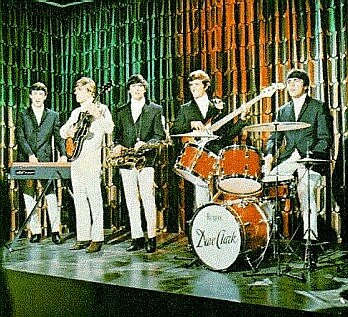 As the Standell number ends, we go right into another act, as club MC Donnie Brooks introduces the Dave Clark Five from "jolly old England" (shot from set of film, left). This appearance is noteworthy if only by virtue of being the first by a British Invasion group in any American 1960s pop film (if you haven't figured it out yet, mop-heads from the U.K. just weren't showing up in Hollywood productions at the time; MGM gets some credit here for being the first studio to bring in such acts, not only here but also in When The Girls Meet The Boys). The band takes the stage, and go right into a restrained, veddy, veddy Merseybeat number titled Whenever You're Around. It's very melodic, very choral, very genteel and very....boring. Now, if only they'd played Glad All Over.
But that aside, the timing here is still interesting, for this group was just coming off a period when they had been giving the Beatles a serious run for their money as the leaders of the British Invasion (in fact, the London press had briefly touted them as that, when "Glad All Over" briefly knocked "I Want To Hold Your Hand" off the top of the U.K. charts). By the time this film came out, however, Clark and his band were already being supplanted not only by the Beatles but by other imports, such as the Rolling Stones. The group didn't fade right way, however, between 1964 and 1967 they got into the top 40 seventeen times and made more appearances on the Ed Sullivan show than any other English Act. That success reflected a solid competency in creating melodic ditties (the group wrote and produced most of its pre-1966 material) featuring powerful vocals and a heavy backbeat (both elements unfortunately absent in their piece here). But like many other bands of the original British Invasion, the Dave Clark Five didn't evolve as the 60s ran on, and by 1969 they were pigeonholed as residue of prior era, and disbanded in 1970.
Immediately after the "DC5" end, the go-go dancer drops a needle on a record, and the kids jump up to dance again. Sue Ann (Chris Noel) asks Terry "Hey, when are you going to do your song?" "As soon as everyone is tired enough to listen" she responds.
Meanwhile, the limousine of pompous Senator Hubert Morrison (played by Willard Waterman) arrives on the Wyndham campus. The Senator -- the grandson of the college founder and a major donor -- has been advised of the "scandal" surrounding Theresa Taylor, which the Board of Trustees is apparently holding an emergency meeting on. Morrison decides he wants to go to the party at the "go-go club" so he can directly observe the woman who has "heaped the burning coals of shame on Wyndham."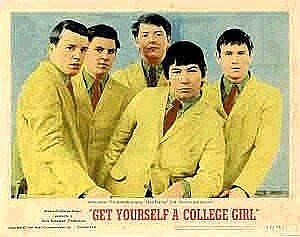 The scene then changes back to the party. I told you this thing was a non-stop musical variety show, and that continues as the Animals (right) are brought right onto the stage. After Donny Brooks makes a tacky, overblown introduction of Eric Burdon's group by saying "Animals, are you ready to roar? Then GO, ANIMIALS, GO!", they kick right into Blue Feeling.
Now, while this isn't one of their hits, this bouncy, mid-speed blues ballad is still quite enjoyable, given it's a nice example of their mid-60s R&B sound. As the band plays, Senator Morrison quietly enters the club. Walking into a mob of frantically dancing kids, the Congressman almost looks like he's holding his nose. The Director has fun with this; as Morrison watches the crowd wildly dancing the Watusi, the film jumps several times to stock documentary footage of Zulu warriors bouncing up and down.
Behind all that, Eric Burdon grimaces in his classic swarmy form (no matter how silly this gig, he wasn't going to let it dilute the edgy, "bad-boys-singing-tales-of-woe" presence of this group).
Now, books have been written about the Animals, so I needn't bore the reader by repeating them, beyond the obvious statement that next to the Rolling Stones, this band was the most important blues-tinged variant of the British Invasion. At the time of this release, the Animals were flying high as the only real foothold Columbia Records had on the burgeoning "imported pop" market. In fact, they hit their top 40 high water mark this year, when their unforgettable cover of Bob Dylan's "House of the Rising Sun" was released. After following that in 1965-66 with a short series of other hits ("Don't Let Me Be Misunderstood," "We've Gotta Get Out of This Place," "It's My Life") the group entered a long, stressful period of personnel changes and continual label switching. The group disintegrated in 1969 when Burdon quit. He and several of the original members reunited in 1976, releasing an album that received critical kudos but little public attention, and the band subsequently closed up shop for good.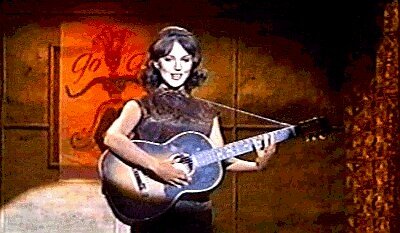 Well, after two Brit acts, it's time for a change of pace, and we get it when Terry is persuaded to go up on stage and perform her hot new composition, Get Yourself a College Girl. This is the only performance piece specifically composed for the film, one that appears to have been designed to take advantage of Mobley's singing and dancing skills.
Whether it was successful in that regard is a matter of opinion.
Mary Ann starts off the number in a reserved mode, gently strumming her guitar (left, she's actually faking the chords, but does a good job at it) as she slowly sings the first two verses, which gives the viewer the sense we're sitting down to hear an intellectual nocturne. However, as we enter the third verse a backing band kicks in as the melody moves into a choppy, almost Latin rhythm. Mobley eventually dispenses with the guitar entirely and goes into her trademarked bump-and-grind routine around the floor, reinforcing the word S-E-X at every opportunity. Frankly, watching all this one is left confused - is Terry a philosophic songbird (part one of the number) or a wild temptress (part two?) This is never clarified, which makes the whole sequence somewhat unfulfilling. Whatever, at the end of the performance, Terry learns that her secret life has been uncovered, and that Dean Stone has requested her to return to the campus to face the Board of Directors immediately.
O.K., now bear with me as I try to explain the subsequent storyline.
In front of the Board, Terry pleads her case, but gets little sympathy from the members, who want to expel her. After Marge argues Terry'c case, the Dean agrees to reconsider, contingent on Terry agreeing to consider the error of her ways over the upcoming Christmas break/ski vacation.
That conveniently gives the script a reason to immediately move all the action to a resort setting. This kicks off with arrival of Terry, Marge, Sue Ann and Lynne at the lodge at "Sun Valley." It turns out Lynne (who again is secretly married) has arranged to meet her husband Ray at the resort, and he shows up right at the bus to re-engage himself with his wife. In fact, they disappear almost immediately, which starts an ongoing (and eventually tiring) running gag throughtout most of the rest of the film: the only time we subsequently see Lynne is when she briefly appears at the door of her room, in a nightie with a dreamy look in her eyes. This "couple-extensively-making-up-for-lost-time" joke wears thin quickly, and it's a big, unfortunate waste of Nancy Sinatra.
Also arriving at the resort are the Senator and the music publisher, each with their own agenda: Morrison wants to catch Terry "in the act," and Underwood wants to get Terry to appear in an ad campaign for her songs. Each has also bought an accomplice with them. The Senator is accompanied by his nervous, anal-retentive campaign manager, while the music publisher is partnered with by Armande, a central-casting style French "artiste" who has been commissioned to paint a racy picture of Terry for the ad campaign.
As we switch into a scene of the girls settling into their room, the presence of a generic mid-tempo dance melody on the soundtrack acts as an immediate "someone is about to start singing or dancing " alert. It turns out to be the latter, when Chris Noel waltzs into the room in a tight white bikini (right). Presumably, she is just trying out an outfit for the upcoming costume ball, but this is really nothing more than an excuse to deploy this gorgeous actress in "eye candy interlude" form, as Sue Ann prances round the room. Shortly thereafter, the scheming producer and his French buddy arrive and introduce themselves and their proposition to Terry. Expectedly, she goes ballastic, and chases them from the room.
Gary and Armande then decide to look for a substitute model. And Underwood knows exactly where. "Stan Getz is rehearsing for his show tonight," he says, "and there's a girl in his line who can't say no to anything."
And here is where things get good. Really good. Trust me - really, really, really good.
As we cut indoors to a daytime lounge setting, we find a group of women are sitting by the stage, quietly enjoying the sound of the Stan Getz quartet as it plays a gentle bosa nova melody. We are then struck as the band is joined by the sound of a breathy, tentative female voice. The camera pans slowly towards the singer at the back of the room, whose face is shielded by a menu. At the end of the first verse, the menu slowly drops, revealing Astrud Gilberto, a young, dark haired, curiously unsmiling Brazilian beauty, who proceeds to gently stroll across the room as the song continues. When she gets to the refrain, we suddenly recognize the familiar words ".... The girl from Impanema goes walking....". Astrud continues the number, and after an instrumental bridge works her way back to her original seat as she sings the last verse. As the number ends, the female audience explodes into applause, and only then do we get a shy, bare glimmer of a smile from the mysterious Gilberto.
My friends, what any viewer of this sequence has just experienced is pure -- repeat, untainted in any way -- musical perfection. Incredibly talented artists, at the absolute peak of their careers, captured on well photographed 35mm format performing their single most famous number.
It just doesn't get any better than this.
What makes this all the more fascinating is the fact you are watching an amateur. Prior to recording this number in late 1963, Gilberto had no professional musical experience whatsoever.
That recording, in fact, happened by accident. Astrud's husband -- Joćo Gilberto , a well known Brazilian musician -- had been recruited by the Producer Creed Taylor to record with jazz star Stan Getz in New York in 1963. Joćo brought along a number to the recording session that he had written with Antonio Jobim (another well-respected artist from the growing Bosa Nova scene in Brazil), called "The Girl from Ipanema." Creed liked the number, but wanted some of the vocals in English (for maximum crossover potential, he knew that a song completely in Portuguese wasn't going to do well in North America). Since Astrud was at the studio -- and happened to be the only Brazilian there who could speak any English -- Creed recruited her as a temporary stand in. So, after her husband recorded the first verse of the song in Portuguese, she followed up with a hesitant, heavily accented second verse in English.
Fortunately, the moment she did that, the pros in the studio realized that they'd just stumbled onto some of the most exquisite singing imaginable. Astrud's soft, breathy approach was simple, innocent, but most importantly, enticing. Even though she wasn't even credited on the resulting LP ("Geltz,Gilberto," Verve 1964), it went on to become the best selling jazz album in history to that point, and the single of "The Girl from Ipanema" went all the way into the top five in mid 1964 (Verve capitalized on this later in the year with a second LP, Getz Au Go-Go, which featured a recording of Getz live with Astrud's vocals appended afterwards). As a result, the Astrud Gilberto, 1965 audiences that saw this film in late '64/early '65 were treated to the rare sight of a high-quality, top pop number appearing -- in polished, well-crafted form -- in a Hollywood production simultaneous to the time of its release. I'm sure that was impressive then, and for those who truly appreciate unembellished artistic musicality, it still is.
So, how can one follow that? Well, the screenwriters and music scorer try.
That evening, we enter the costume party, the second extended musical interlude of the film. It again starts with the Standells blasting away at Boney Maronie, this time live. After the obligatory establishment shot of a dancing mob, the Standells finish and an unidentified MC brings on the next act, the "Rhythm Masters."
Now, it would be really nice to tell you something about this seven piece Dixieland combo, but my research into them has come up absolutely stone cold. I'm left hypothesizing that this tightly choregraphed, highly energetic group of guys in sweaters and ski caps was a group MGM "fabricated" just for the film (Hollywood studio call musicians, perhaps? The drummer is just a little too tight to be anything other than a seasoned professional. Interestingly, this group and number also happen to be the only ones that aren't on the soundtrack LP). Whomever they are, their bouncy performance of Beat Street Rag (which includes a dancing segment; the Mobley and Everett on the ski slopes the energy level here is just incredible) is great, even if it's of a genre that's piece a museum exhibit relative to the pop and jazz we've heard up to this point.
After the Rhythm Masters flee the stage, Donnie Brooks appears again to introduce The Jimmy Smith trio, who join Getz and Gilberto in delivering the second of three classic musical performances in the film.
Classic? Well, I'm not normally one to obsess over the technical capabilities of an instrumental musician, but it's impossible to watch Smith without being amazed at his technique on the Hammond B3 organ, which moves this number into the "select club." As he leads the trio in the soulful Johnny Come On Home (which believe it or not is a creative arrangement the civil war era anthem When Johnny Comes Marching Home), one can only be struck by Jimmy's virtuoso ability to turn his instrument into a literal ensemble. As he performs a complex walking bass line with his feet, he simultaneously plays the melody chords with his left hand and solo lines with his right. The expressive sounds he pulls out of the instrument are absolutely amazing, and demonstrate why to this day he is viewed as the Godfather of the organ in the jazz and pop genres. Sadly, Smith has never really gained recognition he deserves for his impact, but it can be heard everywhere from the keyboard work in the original Led Zepplin releases to the most current forms of jazz.
After the first Smith number ends, he and his trio go right into an unamed mid tempo blues piece after Brooks announces "anyone who hasn't had enough exercise on their skis is welcome to dance to Jimmy Smith and his trio." Shortly thereafter, the Standells come back and announce "everybody swim," the excuse for them to blast off into The Swim, a very fast piece with an annoyingly repetitive melody (which works fine for the inevitable gyrating crowd).
That's the setup for a presumed comedic sequence. Gary has hired the club photographer to snap a picture of Terry's head, so Armande can "append" it to a painting with a generic pretty body (to create the image for Gary's tacky "ad campaign.") The plan goes awry, however, when Terry starts to watusi with Senator Morrison. He is dressed as a shiek, and his wild dancing causes his sash to loosen, which in turn causes his pants to drop. The crowd erupts in laughter as Terry rushes to assist him, and worse, the photographer hired to get a shot of Terry's head instead snaps a scandalous picture of her clutching onto his bare legs. For whatever reason, Gary immediately decides to send the photo the wire services, and subsequently Morrison bemoans the presumed end of his political career.
After some subsequent script nonsense where Terry and Gary settle their differences and conveniently fall in love (as do Sue Ann and Armande), a plan is hatched by the gang of girls from Wyndham to save the Senator. This is the excuse for the third (and last) extended musical interlude of the film, a broadcast "call-in-should-he-run-for reelection-popularity-contest" for Morrison at the go-go club, with musical attractions added to draw in an audience.
This starts off with a second appearance by the Dave Clark Five, this time around playing the upbeat Thinking of You. Of their two numbers in this production, this is the preferable one, a peppy melody that has the feel of a "B' side of a single, but is still listenable. Frankly, one of the things that becomes clear here is how tricky it is for a band featuring a drummer to come off as "peppy," given the star of the show is physically anchored. Dave tries to make up for that by gesticulating as much as possible with his arms while wacking away at his hi-hat cymbals.
What follows the DC5 is probably the the biggest "time capsule" in the whole movie. The MC announces "straight from the Sands hotel in Las Vegas, Freddie Bell and Roberta Linn with the Bellboys!" After that mouthful, we're not sure what to expect, as the stage gets jammed with trumpeters, guitarists and a singing couple who go straight into Talkin ' bout love. This hugely dated cut time swing piece just reeks of the "lounge" genre of late 50s/early 60s pop, with Freddie and Roberta grossly over-enunciating every other syllable. From what I can ascertain, this act was (perhaps like the Rhythm Masters) "cobbled together" for the film. While all these characters hailed frrom the Las Vegas lounge circuit, they hadn't worked together previously: Bell and his Bellboys (photo, right) were one act, while Linn (photo, left) -- an alumnus of the Lawrence Welk Show -- did her own thing, primarily at the Sands Hotel. Whomever at MGM dreamed up the idea for this duet must have thought it would somehow fit into the show, but it really doesn't: Bell and Linn seem packaged and artificial compared to the pop and jazz acts that preceeded them, and the Bellboys (whatever their musical competency) are too buried in the background to appreciate.
Fortunately, the Producers/Director (like the ones who made A Swingin' Summer) saved one of the better acts and numbers for last. The Bell/Linn fiasco is quickly followed by the Animals, who get to close out the show and film positively with the classic blues piece Round and Round, a four chord killer well know to everyone and anyone (including yours truly) who ever played in a garage band. Burdon's treatment of the song here is good, edgy enough to keep it in the blues realm, but with enough "pop" embellishment to brighten it up into a fantastic dance number. What results is the third "classic" piece of the film. As the Senator celebrates "winning" the popularity contest , the scripted love interests all boogie to the pounding sound of a great band rockin' away on a great number.
And you can't end a Beach Party clone on a much better note than that!