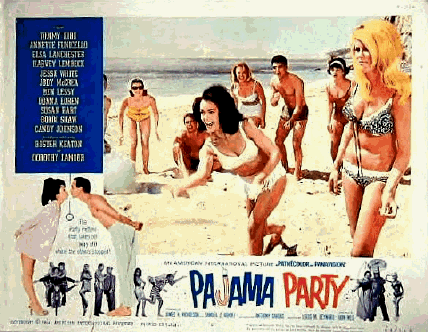 House band in this film: The Nooney Rickett Four (L.A. based combo that had numerous line up changes during its mid 60s history, at the time of this production consisting of Nooney (real name is "Everett;" thanks to his daughter Debbie for letting me know) Rickett, Kent Dunbar, Tommy Funk and Tommy Poole).
The whole gang opens things up in the first true ensemble number of the series (interestingly with no close-ups of the leading stars, but lots of – almost too many – gratuitous shots of Susan Hart squirming around) singing It's That Kind Of Day, an extended upbeat number. Also, one unique feature in this sequence consists of Candy Johnson diving into a swimming pool to perform her wild dancing thing underwater. Suffice to say even she has limits, one can only move so fast when submerged. The bouncy number gets us in a good mood, albeit with absolutely no idea of where the script is heading.
After a slow introduction of all the primary/secondary characters and storylines, the film takes us to the beach and a real treat: the first – and perhaps the finest – instrumental dance sequence in the entire series.
It starts with a close up of the Nooney Rickett Four rocking away at Beach Ball, a wonderful rhythm-guitar-focused, upbeat surfish instrumental. Frankly, this group wins the award for being the most obscure, now-forgotten band to ever appear in these films, albeit with more screen time/close ups than any other "house band" in the series ever got. Rickett, originally from Indiana, moved to California in the late 50s and had a minor recording career (two singles) prior to this film (he and his combo showed up on celluloid again -- in much less interesting fashion -- the following year in the Columbia Beach Party clone Winter A-Go-Go). By 1964, he and his group had become regulars on the Southern California club circuit, which is how they likely caught the attention of AIP and got cast in this film.

We then switch to the start of a big, fancy dance number in the sand. And what a number it is.
This isn't just the "gang" bouncing around, rather it's a group of professional dancers, (swim-suited and bikinied just like the kids, but brought in just for this number) engaging in some serious choreography. Frankly, watching this one forgets they're watching a supposed B movie from a low budget studio; instead, this is reminiscent the edgy, athletic, carefully executed and filmed modern dance one saw in West Side Story. In fact, my gut tells me James Nickolson and Sam Arkoff – very proud of the market success of their series at this point – are showing off here, saying "hey, Hollywood, we can afford to produce slick music numbers, too."
By the way, I think -- cannot confirm, but strongly suspect -- that the dark haired dancer who starts off this number is none other than 21 year old Antonia Christina Basilotta, who is today better JJody McCrea ("Big Lunk") and Annette ("Connie") by pool known as Toni Basil, of "Oh, Mickey" 1980s fame.

Shortly thereafter, in her third outing in the series, Donna Loren (here cast as "Vikki") finally gets some well-deserved respect. Not only does she actually get a speaking line, but a big solo dance number, Among The Young. One realizes right after the opening verse that we've come a long way since that modest debut in Muscle Beach Party, as the producers and director finally take the reins off the talented seventeen year old. And the results are spectacular.
Backed by a rocking Nooney and his band, diminuitive Donna performs the number -- her most extensive dance song of the series – in front of a big crowd, while wearing a bright red one piece on a tropical-hut-type platform on the beach, right near the Malibu pier (screen shot, above right). In a testament to her stage presence, the camerawork in the sequence is documentary in feel, focused almost solely on Donna (with the exception of a few short cuts to a wiggling Susan Hart; other than that, no need to linger on dancing kids or sidebar comedy - Donna is more interesting). Loren makes the most of the uptempo piece, belting out the lyrics as she prances all over the stage, not just chewing but swallowing the scenery, and ends the song dramatically, with an accelerando* refrain that suddenly changes into a big, dramatic vaudeville-ish ritard.** Or to summarize the performance in more straightforward street dialect, Donna kicks proverbial butt. Adding some additional frosting to this cake is Candy Johnson, who makes another rare swimsuited appearance during the song, at one point even doing a burlesquey "derrire bounce" off Donna.
(*musical vernacular; Italian for "becoming faster")
(**more musical vernacular, short for ritardando; Italian for "a gradual slowing down.")
After that, we need some rest, and it's granted with more storyline development. This eventually leads to Annette (whose character changes names yet again, this time she for whatever reason becomes "Connie") and Tommy Kirk, who plays "Go-Go," a Martian -- yes, a Martian, hey, I warned you the script was weird – trying to explain their strange attraction for one another in There Has To Be A Reason, which just happens to be the best executed and most entertaining duet love ballad of the entire series. That's due to the both the composition (a soft orchestral piece that is vaguely similar in feel to Annette's ballads from Beach Party) and some interesting nonverbal interplay between Annette and Tommy. One wonders whether she knew at the time that Kirk was gay; if she did, it's clear from this sequence that didn't concern her at all. Setting is also a large part of what makes this number, it's sung as the couple drive along the Pacific – with Annette at the wheel -- in a wonderful yellow 1965 Mustang convertible. Note: while Annette is as usual attractive thoughout the entire film, in this scene she's particularly luminous.
"Eric Von Zipper" (Harvey Lembeck) challenges "Go-Go" Shortly thereafter, we are treated to a veteran of Hollywood's golden (Tommy Kirk) in the boutique as Dorothy Lamour and age. Dorothy Lamour, here cast in an extensive cameo as the Elsa Lancaster look on manager of a boutique that specializes in fashions for "teens" – bemoans the decline of adolescent "dance etiquette" as she sings Where Did I Go Wrong. The combination of vintage Hollywood queen, tacky costumes and even tackier dancing make this one of the more bizarre musical numbers to ever appear in these films. By the way, one of the teen models who appears during this sequence – she's dressed in a yellow toga/shift type thing - is someone who will go on to major future Hollywood fame, but I won't name her until later (when she gets more screen time in a subsequent scene). The sequence continues with some classic slapstick from Buster Keaton (cast as "Chief Rotten Eagle," one of the conspiring con artists) and an appearance by Eric Von Zipper. He inevitably starts a fight, which results in Goo-Goo fleeing with Rotten Eagle and Helga in the Mustang convertible. Zipper and his gang pursue them, which forces us to sit through an overlong and dated looking film-speeded-up-to-make-things-look-screwy slapstick car chase sequence, through the comparatively dull-looking downtown section of the Malibu colony.

Later, "Connie" – now in her night time attire -- sings the most infamous musical piece in the entire series, Stuffed Animal. For various reasons that can only be fully appreciated with a viewing, this number definitely falls into the "what on earth were they thinking?!?" category of Hollywood legend.
The somewhat undeservedly notorious reputation of this piece stems from two factors: first, lyrics that were unintentionally written such that they can easily be taken the wrong way; secondly, the nature and execution of the sequence itself. Without getting into numbing detail, let's just say that seeing Annette, dressed in a filmy baby doll nightgown as she lounges on a bed in a softly lit room, stroking a large teddy bear (left) while crooning "a stuffed animal is more than a toy.…loves to be kissed….soft and cuddly and hard to resist….," as her girlfriends luridly stare at her…..well, that's inevitably going to lead many imaginations in exactly the wrong direction. One just wonders how on earth director Weis didn't catch this back in 1964
But one doesn't dwell long on this, for the next evening (and late in the film), by the pool – the surrogate for a club in this movie -- Annette hits a musical home run.
She nails the only solo performance of a title piece in the entire series, a buoyant, rousing rendition of Pajama Party. Her unembellished vocal (no doubletracking, echo or any other audio voodoo here) is rock solid, and just to make things interesting, she performs the song while simultaneously leading the entire gang in a heavily choreographed dance number. Everything here clicks – Annette's performance, the composition, the setting, the dancing, the costumes, the cinematography -- to the degree this number probably stands as the paradigm of the Beach Party theme at its absolute peak. And if proof was ever needed that this woman was more than capable of holding her own as a musical leading lady, here it inarguably is.

Footnote trivia about the picture above of this great title number: if the perky blond in the baby-doll dancing to the immediate left of Annette looks vaguely familiar, you're onto something: she's the one you saw earlier during the boutique scene (and who was also one of the dancers in the great Beach Ball sequence), and is none other than 15 year old Terri Garr (listed as "Teri Hope" in the credits), here appearing in one of her first feature films. Toni Basil is also a dancer in this scene, albeit viewer opinions seem to vary on exactly which girl in the crowd above she is.
After the "climax" - a cartoonish segment that involves "Big Lunk" (Jody McCrea) and Go-Go chasing "J. Sinister Hulk" (Jesse White, who is immediately recognizable to most viewers as the guy who played the "Maytag Man" in TV commercials for several decades) and his incompetent gang of con artists around the mansion, we close with more dancing by the pool as the romantic leads finally settle their arguments.
The ending credits again feature "a wild chick dancing " to instrumental reprises of the title song and Among The Young, except this time it's Susan Hart (eventually with Buster Keaton and Elsa Lancaster joining in), not Candy Johnson provocatively shimmying in the left hand panel of the split screen. There are two interesting little stories here: first, Hart – who had arrived at AIP with no real resume -- was at the time romantically involved with AIP co-head James Nickolson, which presumably had a lot to do with her not only getting the plum "credits role," but also being prominently featured throughout the film as a squirming bikinied seductress. Secondly, by this fourth film Candy Johnson's stock in the series had for whatever reason really dropped. She has very limited time on camera in Pajama Party (partly due to Hart's intrusion, the script only had room for one running "sexual" joke) and in fact ended up being not only her last Beach Party film, but the swan song of her entire brief Hollywood career.