House band in this film: Dick Dale and his Del-Tones
As the opening title credits roll, we get a Baxter scored bongo-driven, jazz oriented version of the title piece, which doesn't really hint at what's about to follow. The series kicks off musically with Annette Funicello (here cast as "Dolores," in almost every other Beach Party film she played the nicknamed "Dee Dee") and Frankie Avalon in a somewhat antique-looking "hot rod," (scene to right) rolling down the Pacific Coastal Highway to Paradise Cove in Malibu (where most of the beach scenes in these films were shot) on their way to spring vacation, as they sing Beach Party. As scored and performed (with a somewhat anemic sounding rhythm guitar), the piece isn't exactly rock n' roll, but it's upbeat and bouncy enough to give the audience the sense this is not your mother's musical.
We are then introduced to Robert O. Sutwell, a quirky anthropology professor, played by Robert Cummings (who had made a career out of appearing as such affable, bumbling men) and Marianne, his beautiful, romance-challenged adult assistant, played by Dorothy Malone, who holds the notable distinction of being the only Oscar winner to ever appear in these films. Malone had won Best Supporting Actress in 1956, for her scorching portrayal of a sickeningly spoiled heiress in Written on the Wind (scene from that film of her with Robert Stack, left). Like many other older, prior "A" film stars who appeared in AIP productions, Malone was using it essentially as "the studio of last resort," the only option after a career had gone cold.
But enough of that tangent; to quote the Gilligan's Island theme song, back to the "Professor and Marianne:" The beach house they have rented is full of circa-1963 high tech spying/recording equipment. We quickly learn those are tools to assist Professor Sutwell in his "project," which is studying the analogies between the behavior of the surfing kids and that of "primitive tribal culture."
Later on, during the initial beach scenes (which include the best stock surfing footage of the whole series), Dick Dale appears in the sand with his light blue Stratocaster, and jumps into Secret Surfin' Spot, a vernacular-filled uptempo dance piece. The song is relatively unadulterated vintage Dale, and the gang jumps up to start fruggin'. The resulting footage (documentary-like close ups of bikinied girls and baggied dudes whoopin it up in the sand) probably had every teen in the audience immediately wanting to move to California.
We then cut to the first club scene at Big Daddy's. Things The icons at the very beginning: Annette and Frankie roll of intentionally have a somewhat beatnik feel (Dale is wearing onto the sand at the start of Beach Party an earring), likely to add just enough "edginess" to things. things Yes, Asher wanted this film to be about good kids, but not boring kids).
Dale then grabs his Stratocaster and jumps into Swingin' and Surfin', an upbeat number that of course immediately gets the gang dancing. Now, from a contemporary perspective, this sequence may not appear to be anything particularly special. However, one must keep in mind that that the scene of a hot rock band driving a crowd "wild" in 1963 was pre-Scopitone, pre-Hullabaloo, pre-Shindig, pre-MTV, etc. In other words, it's music video before music video. So forget about current standards and imagine the kind of impact that imagery had on audiences – adolescent audiences (the target for these films) -- in 1963. Note: Dick managed to leverage the popularity of this film to get an appearance doing this song on the Ed Sullivan Show on October 6, 1963 (two months into the release ).
The script for this film of course features an ongoing relationship battle between Annette and Frankie, and the "bad" girl trying to drag Frankie away in this case is Ava Six (left, who is played by Eva Six, an obscure Hungarian bombshell whose entire film career consisted soley of this and one other role). Frankie's flirtation with her becomes an excuse for his only solo in the film, the upbeat Don't Stop Now. The song itself isn't particularly Marianne, Robert, Frankie and Dolores interesting -- Avalon does what he can with it, which isn't much -- but the piece is entertaining enough because of the choreography (Frankie starts out dancing with Ava, moves on to Candy Johnson, then a bevy of women, and eventually gets the whole gang up and going). This followed by the introduction of what I feel is one of the most purely entertaining comedic characters in Hollywood history: bumbling motorcycle gang leader Eric Von Zipper, portrayed seamlessly by Harvey Lembeck.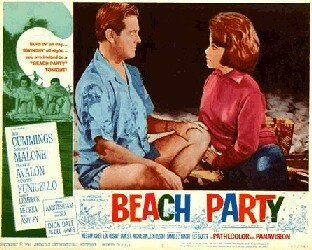 Later, regretting her "loss" of Frankie to Ava, Annette sings her first -- and one of her best -- ballads of the series, Treat Him Nicely to her reflection in a mirror. The slow, beautifully orchestrated piece is probably one of the top two solo ballads she performed in the entire series. The song -- based on a combo doing a slow, gentle four chord progression, with a wonderful counterpoint by a swooping string section -- just drips of the era, and Annette takes full adavntage of that backdrop by layering on a restrained but emotional vocal. It should be noted that the version in the film is similar to, but slightly different than the one that appears on the soundtrack album (the latter sounds like it has less doubletracking than the one in the movie; perhaps a different mix?) The scene also benefits from some wonderful camerawork.
The next evening, we are now around a campfire at the beach, and Dick Dale is again at the bongos, leading the gang in a vocal reprise of Swingin' and Surfin', which gives Candy Johnson an excuse to get up and start wiggling. Just when you think that's going to lead to a song, the script makes a hard left turn as all the couples run off to engage in…well, whatever. As Dolores tries to seduce the anthropologist (scene in lobby card to right; as she flirts, he keeps asking her how to educate him on her "clan"), Marianne (who is is jealously listening into the two with the "spy" equipment back up in the beach house) puts on a record, which just happens to be Annette (in background music form) performing her second ballad of the series, Promise Me Anything. This wonderful song is best enjoyed if one has the soundtrack album, the film version is audio backdrop to all sorts of giggling and whatever, which makes it hard to really enjoy the way this classic, lounge-ish sounding early sixties piece acts as a wonderful stage for Annette's gentle, gliding mezzo soprano. As it is used in the movie, it works well in "theming" this section of the film, as couples engage in various forms of 'noodling" under the moonlit sky. It's also unique in being the only piece in the entire series where the person performing the song doesn't actually appear singing it.
Now, if that's a disappointment, don't worry. If one really misses seeing Annette sing this beautiful number, she did do a subsequent performance of it -- a rather nice one, in fact -- on a TV special in November of 1963, and it's now available on home video. That show -- Dick Clark's Celebrity Party -- is discussed in some detail (including a source for the tape) in the Donna Loren area of this site.
After the climax (a brawl at Big Daddy's between the kids and the "Ratz and Mice" (Eric Von Zipper's bike gang), with Professor Sutwell saving the day, right before a brief cameo by Vincent Price), the closing credits start a theme that will be repeated for the next three movies, featuring a split screen approach. As Frankie Avalon sings a more upbeat, rock n' rollish solo version of Beach Party in the background, the credits roll on the right as Candy Johnson dances like a nut on the left.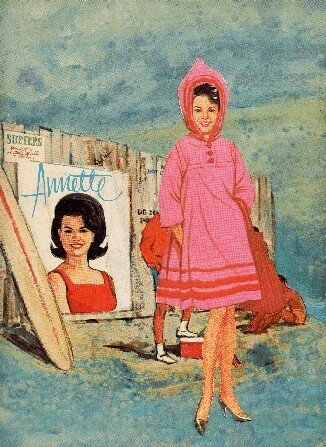 Club host "Cappy" (Morey Amsterdam) and "Dee Dee" in rare out-take scene on a lobby card
Who thought paper dolls could be this much fun?