Compared to most female teen celebrities of the 60s, Donna was the proverbial renaissance girl. Only sixteen when she first appeared in the Beach Party series, she was already an experienced singer, model, actress and clothing designer.
Actually, Donna's career began long before the Beach Party era. She started singing and performing at an early age, with enough success to be able to celebrate her tenth birthday on March 7, 1957 as a guest star on the Mickey Mouse Club. After some subsequent appearances in small roles on several TV dramas, the next significant event in her path to fame came in 1963, when she won a lucrative contract (in a nationwide contest) as the "celebrity spokesmodel" for Dr Pepper, one she continued in even after she finished appearing in the AIP movies (her contract with Dr Pepper actually ran until 1968).
On that tangent, think movie product placement deals are a comparatively recent trend? Think again – anyone in any club or party scene in the second through fifth Beach Party film just happens to have a bottle of -- guess what? (hint: think "pretty young spokesmodel"…) -- in their hands or sitting in front of them.
Regarding that role, if one wants to see a wonderfully entertaining example of the early, truly adolescent version of the "Dr Pepper Girl" in action, I highly recommend a viewing of Dick Clark's Celebrity Party. This forty-five minute long television special -- sponsored by Dr Pepper and broadcast on ABC on November 30, 1963 (somewhat awkward timing, being just a week after the J.F.K. assassination) -- an absolutely fascinating Loren time capsule.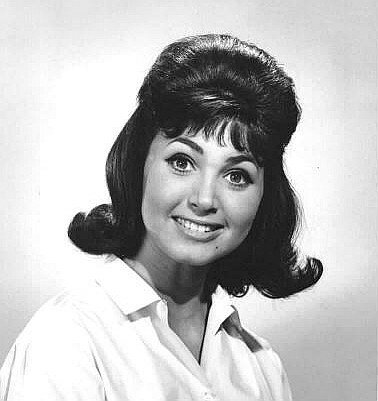 Set in an unamed "home in Hollywood," (which was actually Frankie Avalon's house in Bel Air), the guest list crams in a choice sample of the teen idols, Hollywood stars and pop icons of the era. Donna co-hosts the party along with Dick, and in attendance are many Beach Party series cast members, including Avalon, Annette (who sings Promise Me Anything from Beach Party), Dick Dale, John Ashley and then spouse Deborah Walley. Shelley Fabares and Paul Peterson show up, as do Wayne Newton, Connie Stevens, George Hamilton, Jan and Dean (who are at their high water mark here, enjoying the popularity of their recent #1 smash "Surf City"), Bobby "Boris" Pickett ("The Monster Mash") and even "Miss Teen America," who appears complete with her crown.
Dick does his usual brief, well-intentioned but transparently promotional "interviews" with all these people; both Avalon and Funicello buzz a bit about the "upcoming sequel" to Beach Party, Annette intriguingly reinforcing to Dick "I'm still under contract to Mr. Disney, but non-exclusively." Dick Dale makes the most insightful comment of the evening when Clark asks him "Dick, are you still with the surfing craze, and the wild and wonderful sound California music?", to which Dale responds "oh, you better believe it Dick, I'll never give it up."
One other short but interesting "interview tidbit" occurs when Dick briefly interviews Jackie DeShannon about her singing role in an upcoming new film called Surf Party. Jackie seems almost Seventeen year old Donna in 1964 (AIP apologetic when responding to Dick's questions about the movie, publicity shot for Bikini Beach) was which was one of the first "clones" of Beach Party. That's not surprising, given DeShannon had limited musical numbers and screen time in this low budget, comparatively weak attempt by MGM to jump on the emerging "pop surfing musicals" bandwagon.
In addition to Annette's musical number, we're treated to performances by April Stevens and Nino Tempo ("Deep Purple"), the Challengers (who provide Albatross, an impressive surf instrumental), Dick and Dee Dee ("Turn Around") and Trini Lopez ("Kansas City").
Host Donna gets to perform twice during the show, her first piece being a little ditty called I Can't Make My Heart Say Goodbye. While the genre of the song – a Tammy-Wynette-ish, tear-jerker country ballad – is somewhat dated even by 1963 musical norms, the number is still a striking demonstration of the impressive vocal and stage technique of the sixteen year old ingénue, one that attains a standard far above her years. Later on in the show, we're treated to a second performance, where she sings out by the pool (on a unusually cold L.A. night; the poor girl must have been freezing, you can see her frosty breath with every note) while playing the piano, backed by the Challengers, in a soulful, rockin' version of Bill Bailey. Throughout the whole program she's at her giggly adolescent best; one can only imagine the thrill the young beauty was feeling during her first true "starring" appearance on national TV. A video of this rarity is available from the San Francisco based firm The Video Beat, which by the way is a great source for this sort of "lost" vintage pop material.
But Donna didn't stop with just films and Dr Pepper: in 1965, she became an almost overnight regular on network TV. Starting with an ongoing singing spot on ABC's Shindig, she then obtained a guest star role (as ""Suzie the Cheerleader," a.k.a. Robin's girlfriend) on the Batman TV show (which was no mean feat, major Hollywood stars were literally banging on ABC's door at the time to get a spot on that highly rated program), and subsequently made appearance on the Monkees and Gomer Pyle. She continued to grow on TV, showing up on other variety shows such as Milton Berle and Red Skeleton, and even made some appearances on the Hollywood Squares.
She also liked to design clothing and sew, an interest that started in her childhood and evolved to the point where she designed and sewed most of the attire she wore during her 60's appearances. In 1964, she spun that avocation into a spokesperson deal with the Simplicity Pattern Company (there's a quicktime movie of her cute, perky TV ad for Simplicity in the archival section of Donna's ADASA web site, link provided below). And -- in all the abundant free time she had left over -- she even wrote advice columns for teen oriented magazines, and not the mindless blathering sort, either. To this day, they come across as strikingly articulate and thoughtful compared to what normally appeared in those publications.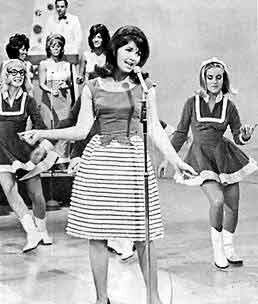 As far as Donna's singing and recording career, while it started in childhood, the majority of it ran from the early to mid 60's and involved the release of scores of singles on a number of labels (the only album was the Capitol LP covered in the discography section of this site; most of Donna's earlier singles that got airplay were on Crest or Challenge). The material is hard to characterize, ranging from bubble gum pop ("I'm In Love With The Ticket Taker") to the grand diva-ish ("It's Such A Shame") to the faddish ("Do The Zonk") to the just plain bizarre ("Johnny's Got Somethin'"). To her credit, this variety suggests Donna was confident, capable and flexible enough to experiment with pretty much whatever was thrown at her.
While that range is interesting, there was almost a problem with if, for suffice to say Donna had a superb but generally under-challenged voice. Listening to her recordings today, one hears an almost schizophrenic range of material, much of which seems far below her obvious competencies. In fact, one is wistfully left wondering what might happened if this gifted artist had come under the wing of different producers, ones who might have taken her down riskier but more substantive paths. Granted, there are a handful of moments in some of her late Reprise era recordings that hint at greatness, at the "what could have been," but but Loren rocks Shindig, 1965 one can only imagine what this powerhouse of a singer could have accomplished if she'd gotten into the hands of a visionary like Phil Spector or Snuf Garrett. Case in point: Atlantic Records took such a risk in 1969 when they shipped fading, outdated pop diva Dusty Springfield down to Memphis to record with a cherry-picked crew of seasoned blues musicians. Springfield was frightened and challenged in the sessions, but the result was in "Dusty in Memphis," a masterpiece that not only revitalized her career, but which most reviewers now label as one of the greatest pop albums of the entire decade.
Donna married record producer Lenny Warnoker in 1968 at the ripe old age of twenty one, and subsequently retired from acting and singing. Interestingly, two of her children from that marriage (her first, she and Warnoker divorced in 1986; Donna subsequently remarried, to Jered Cargman) followed in their mother's professional musical footsteps: son Joey (born 1970) has played drums for a number of artists including Beck and R.E.M., and daughter Anna (left, born 1972) has carved out a multifaceted niche as an instrumentalist/singer/songwriter within the Southern Californian "indie" circuit (my review of Anna's CDs and videos suggests that while she doesn't have quite the same vocal gifts as Mom, she definitely inherted her presence and style).
After starting a family, the "musical" Donna briefly re- Mom in 1964.... .....and daughter in 2004 surfaced in the early 1970s and released a few fe , singles, most self or co-produced. The compositions were originals or covers in what can best be described as a country/country-rock format. The material was creative and interesting but unfortunately drew little if any attention, and Loren again disappeared from view.
But Donna's legacy is still fun – and is in fact still evolving: almost forty years after the end of her primary acting and singing career, Loren has re-surfaced again. Now living in Hawaii, Donna runs her own successful clothing line, has a chain of boutiques and is still the thoughtful beauty. Or stated differently, time has treated this lady quite well. Should anyone need convincing of the latter, that's Donna below -- yes, the Dr Pepper/Simplicity/Shindig/Beach Party Donna -- circa 2002, modeling one of her own creations. Trust me, there's even more of that beauty and creativity awaiting those who take a trip to her fun ADASA Hawaii site.
Photo provided by and used with gracious permission of ADASA Hawaii, Ltd.