Released November 11, 1964 (in some markets as "The Maid and The Martian")
Available on video? yes, currently being commercially distributed by MGM to home videomarket. Available in VHS as part of the "Midnite Movie" series (now out of production, but inventory is still out there) or general MGM series DVD.
Synopsis: as Martians plan to invade earth, the gang has fun at the beach and a mansion owned by an eccentric millionaire widow, who a group of bumbling con artists are attempting to rip off.
An under-appreciated musical accomplishment

Often overlooked because it so different than the other films in the series (had a different director – Don Weis -- than the predecessors, isn't set at the beach, has a truly weird, quirky storyline which focuses more screen time than usual on the adult characters, and was the first not to star Frankie Avalon). However, quite noteworthy given the focus of this site, given it comes the closest to being a real musical of almost any movie in the series.
How so? Well, first, unlike those in the other Beach Party movies, several dance sequences in Pajama Party contain comparatively complex, Broadway-quality choreography, specifically the early beach volleyball scene and the later poolside title piece sequence. Clearly professionals were brought in to put these together, whenever AIP spent money they wanted it to show (or to quote Sam Arkoff: "Thou shall not put too much money into one picture, and with the money you do spend, put it on the screen.")
Secondly, the musical numbers tie into the script a lot more closely than the norm for these films, with most numbers actually having something to do with carrying the storyline.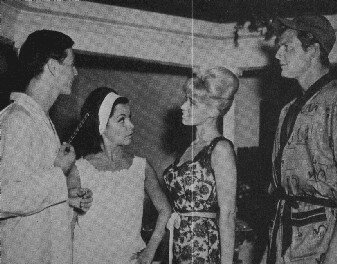 Third, Les Baxter's competencies as an arranger are readily apparent here: the background music makes continual good use of themes from the script as well as the singing numbers, carefully tying scenes and storylines together.
Fourth, the absence of Avalon as a singing character opens up things for the women, who to the audiences' benefit really get to carry the music this time. Annette -- who is truly at her most radiant in this film -- positively glows in her pieces and Donna Loren moves up to be a leading musical character.
Pajama Party is also noteworthy on several other levels. For whatever reason, the cinematography here is much better than in any of the other Beach Party movies (possibly because of different direction? Whatever, some of the tracking shots are truly A film quality), which helps make up for many truly nonsensical scenes (much of what you're watching may be incredibly stupid, but it's incredibly well-photographed stupidity). And it includes one of the largest and most entertaining group of "brand name" Tommy Kirk, Annette, Bobbi Shaw and Jody guest stars to appear in the series, including Elsa Lancaster, Dorothy McCrea in a pool party scene Lamour, Buster Keaton, Don Rickles (in cameo mode) and Jesse White. This film also marks the debut appearance of Bobbi Shaw, a beautiful actress whose brief acting career consisted solely of bit parts in five AIP films. Here, she plays "Helga," the Swedish bombshell assistant of Keaton's Character "Chief Rotten Eagle." Bobbi is fondly remembered for her portayal of Helga, whose script lines consisted almost solely of "ya, ya."