Released August 7, 1963
Available on video? yes, currently being commercially distributed by MMGM to the home video market. Available in VHS as part of the "Midnite MMovie" series (now out of production, but inventory is still out there) or ggeneral MGM series DVD.
Synopsis: a scholarly anthropologist goes to the Southern Californian beach environment to study the "analogies" between teen surfers and primitive tribal culture. He ends up entangled in an Annette/Frankie love triangle and has to face cycle gang leader Eric Von Zipper.
A small but auspicious musical start
It was an efficient production, even by the standards of AIP (a studio infamous for grinding 'em out cheap and fast). Primary scene shooting was completed in just a little over three weeks, and the entire budget for the film came in at less than $300,000 (which even back in 1963 was minuscule by Hollywood standards). One is left wondering whether James Nickolson and Sam Arkoff (the partners running AIP) had any idea that their latest little cheapo production was going to kick off a major new Hollywood genre.
In fact, they originally hadn't even planned on making it: they'd sat down in late 1962 with Director William Asher, asking him to help them produce yet another juvenile delinquent feature (a then fading genre, but one AIP had been involved with since it had started in the mid 1950s). In the meeting, Asher basically said "why not try something different? Let's do a movie about kids not in trouble, maybe ones at the beach having fun." Since Asher had dabbled in surfing himself, he recommended that as a focus. And then somehow -- no one is quite sure who suggested this -- the notion of putting songs into the film was developed.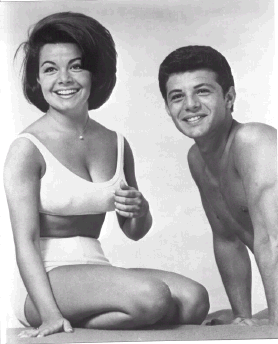 And that last part was critical, for it's what led to the new genre.
How so? By adding pop music to a themed comedy, ergo, creating a new form of musical. Back in the late 1950s there had been some previous "rock n" roll" movies ("Rock around the Clock," "Don't Knock the Rock," some even produced by AIP) but none of them had used that music the way Beach Party did. The prior efforts were set in studios and television stations, with pretentious dramatic storylines primarily focused on adult musicians and producers. The music that appeared in them was almost always set as a formal production on a stage or in a recording studio.
The new AIP effort was completely different. It took pop music and worked it into a comedy, which was set within a fun, "provocative" theme (unchaperoned "kids" at the beach, running wild and wearing very little). This new stew may have been shallow and quirky, but it worked: within weeks of release Beach Party had made back its investment and went on to become one of the more successful films of 1963. In fact, during its first week of release it beat several major competing films at the box office, including the Jerry Lewis comedy The Nutty Professor and Alfred Hitchcock's The Birds.
As a musical, the first entry in the series is intriguing and ambitious but a little rough. Les Baxter used songs from a bunch of writers, but used only three cast members to do all the performing: Annette, Frankie and Dick Dale. Since the director and producers were still working out the formula, the music is limited and in many cases employed as an add-on or background, rather than being tied to the storyline. But that doesn't mean there isn't anything of interest here. Two of Annette's best pieces of the entire series appear, and early in the show Dick Dale gets to really rock out several times, establishing landmark sequence stereotypes that would be continually repeated throughout the series.